The Hancock-Henderson Quill, Inc.
---
Where Are They Now?
by Becky Smith, The Quill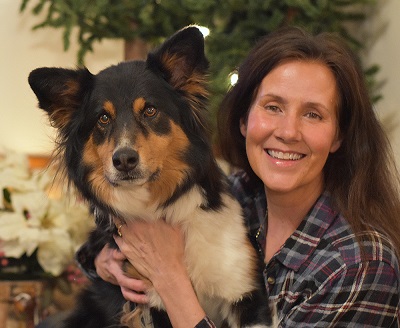 Jackie Rodeffer-Scheetz graduated from La Harpe High School in 1979. She received her B.S. in Psychology and Physical Education, in addition to earning her Education degree from WIU.
The day after finishing her student teacher requirements at Burlington High School, and being offered a teaching position there for the following school year, she moved to Kansas City, MO and has lived in that area ever since.
Her husband, musician, Jeff Scheetz, had moved there a year earlier, and they were married in 1990. More information on Jeff is available at jeffscheetz.com or at truefire.com.
Since the move, Jackie has been engaged in various pursuits. "She grew up being interested and involved in many different things, and as an adult, that hasn't changed." In her opinion, something that heavily influenced her and many women of her generation, was the notion of the "super woman' that was so pervasive in the 70's. "Women in that era were really expected to prove that women could not only earn a living, but do everything else too---and do it ALL really well." She cites as an example, the 1978 "Enjoli' perfume commercial that touts lyrics such as "I can bring home the bacon, fry it up in a pan," etc. "Google that commercial sometime for a little fun" she laughs.
Jackie managed health clubs in the earlier years, and that fed her extreme interest in fitness. Following that experience, she became a chiropractic therapist for 10 years, really expanding her knowledge and interest in alternative medicine and healthcare.
For the last twenty one years, she has owned and operated her own "Healthy Home Cleaning" business, utilizing non-toxic and homemade cleaners before it was all the rage. This job has made it possible for her to indulge other interests and past times while providing many other positives as well.
"It is not in my genes to be inactive. I love the people that I work with, because I get to choose them. If I need time off, I can take it. One of the greatest things about owning your own business is being able to treat people the way you want to. I genuinely care about people, and want to be able to do what is right. My clients are all like family to me," she said.
Jackie has also been a model for many years, appearing in many commercials, print work, and lots of fashion shows. Her favorite part of modeling is getting to do the runway shows, because she gets to wear all of those beautiful clothes:and doesn't have to buy them!
Her agents affectionately refer to her as their "fashionista'. Jackie is signed with the I & I Agency which was a Wilhelmina agency for many years. Her agency signed Ashley Graham as well as many other top fashion models.
Being on the other side of the lens is another favorite hobby. She has shared over 100,000 pictures she has taken of disc dogs, many appearing on her website, discdogpictures.com. One of her pictures ranks the highest in Google photos' search engine for disc dogs.
She has served on her District's water board for many years. She occasionally writes posts on her blog triumphantaging.com. She loves to bake, and to keep flowers and herb gardens. She and her husband enjoy hiking so much they bought some land on a mountain in Montana, which is their favorite place to go.
Most of Jackie's family still lives in the La Harpe area, and though she doesn't get to visit as often as she would like, they are all very important to her.
Her mother, Deloris Rodeffer, resides in Blandinsville, and Jackie says she is her best friend. Her brother, Ted, lives on the farm they grew up on. Her father, Dick, passed away in 2000, and she is really happy that the farm is "still in the family'. She considers Ted and Angela's kids to be true blessings in her life, and has really enjoyed watching them grow into adulthood and being a part of their lives. "I have really enjoyed watching Ted embrace being a grandpa."
Jeff and Jackie are raising 4 four legged children themselves, and that is her greatest passion in life. One is a 7 year old calico cat named, Darby, that Towser takes responsibility for rescuing as he located her abandoned in a park when she was about 4 weeks old. Towser is one of three dogs. He is a 10 year old Australian Shepherd, Border Collie, Sheltie mix rescue dog. Killian is a 7 year old Border Collie, Australian Shepherd mix rescue. Zorro is a 13 month old purebred Border Collie puppy. All of the dogs are disc (Frisbee) dogs. Towser and Killian are both disc dog world champions, and compete in agility when they have time. Towser has been featured on ESPN's Sports center.
Jeff, Jackie and Shaun Johnson, own and operate the Kansas City Disc Dogs Club. Jeff is the President of the club, and Jackie is the Secretary/Treasurer. They have been active in disc dogging ever since Towser was a year and a half old.
"Life can really lead you in totally unexpected and wonderful places if you go with it. Let go and let God. I would probably have never left La Harpe if not for Jeff. So my world completely changed.
After Towser came into our lives, as an 8 week old 5 lb. puppy, it completely changed again. I really don't often refer to Towser as a dog. He is my child, and he is my angel:literally. Beyond that, he is considered special everywhere he goes. For more on that, he has his own face book page and we have a website, teamtowser.com. As a family, we travel all over, competing, performing and doing fun things together along the way. We are richly blessed," Jackie said.
11 Fun Facts about me:
Favorite Movie: Psycho - the original Hitchcock version (Honorable mention - The Wizard of Oz)
One thing I am afraid of: Flying :.also I am a serious arachnophobe
One eccentricity (and there are many): I put thick towels over my automobile floor mats because I detest dirty floor mats, and it is just so easy to pop those towels in the washer.
One of the hardest things I have ever done: Gave up Pepsi for 4 years and 9 months
Something I haven't done since leaving La Harpe: Ride a real bicycle
I have terrible: mirror imaging skills
Personal Motto: Anything worth doing is worth overdoing.
Personal obsession: the color black
One thing I haven't done that most women have: Gotten a manicure or a pedicure
Something unusual that I love: Ice cubes with holes in the center
Something very predictable about me: When I go to a familiar restaurant, I always order the same thing.
---