The Hancock-Henderson Quill, Inc.
---
Rutzen Is Celebrating In The Blue Ridge Mountains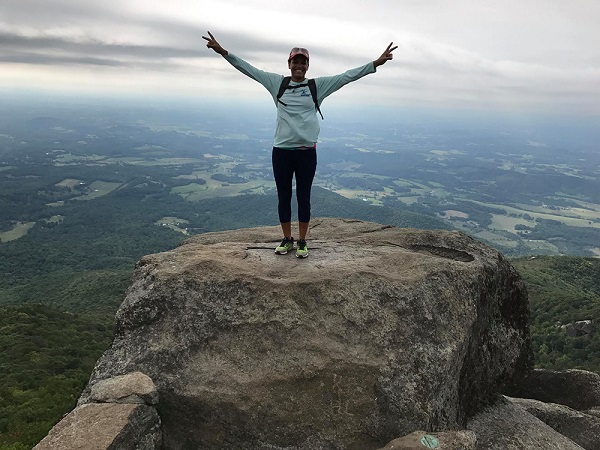 10 FAQs with Miriam Rutzen
Where are you? I am residing in Lynchburg, Virginia, in the Blue Ridge Mountain region three hours southwest of Washington, D.C.
What are you doing? I am a graduate assistant with Liberty University Women's Basketball. My main responsibilities include team coverage on social media (@libertywbb), recruiting and managing male practice players, and overseeing undergraduate team managers. Off the court, I am pursuing my master's degree in Industrial/Organizational Psychology.
How did your team perform this season? Our overall record ended at 24-10. We went undefeated on our home floor, finished #1 in the conference for the regular season, and then won the Big South Tournament to advance to the NCAA tournament as a #14 seed. We matched up against #3 Tennessee in Knoxville, where we ended our season on their home floor.
What teams are in the Big South Conference? The conference covers the following states: southern Virginia, North Carolina, and South Carolina. Some example schools are UNC Asheville, Radford, Gardner-Webb, Campbell, and High Point. There are ten schools currently but the conference is expanding to twelve next year.
How do you like the Blue Ridge Mountain region? The team went on a retreat in the mountains during preseason. The staff spent a day kayaking on the James River in August. Hiking options are abundant. We are centrally located in the state, about 90 miles from both Blacksburg (Virginia Tech) and Charlottesville (University of Virginia). Weather is moderate; warmer than Illinois!
How did you end up at Liberty? A rather wild story that included quality time in Cameroon, followed by basketball connections at the Final Four where the Women's Basketball Coaches Association holds their annual conference, and a door opening on staff at Liberty with the women's team a few months later. From the head coach to my undergraduate managers, everyone has been incredibly welcoming and supportive as I learned to navigate a brand new school and city.
What is the enrollment at Liberty? 110,000! Crazy, but that is what happens when you count online and residential students, graduate and undergraduate level together. Initially I was a residential graduate student, but now I am an online student. Fun fact, Nick Foles, the Philadelphia Eagles Super Bowl MVP, also takes classes online through Liberty University.
How big is Lynchburg? According to the 2010 census, Lynchburg has a population of 75,568. There are six colleges within 5 miles of the center of town. Nearly any "normal" chain store or restaurant you can imagine can be found near Liberty's campus.
What three words would you use to describe Liberty? Bible-based, expanding, and new. Liberty was just founded in 1971 and continues to grow in student body size. In order to accommodate the ever-growing campus traffic, new roads and buildings are coming up all the time. Slightly different from Harvard which was founded in 1636, where the some of the "newer" buildings are over a hundred years old.
What is next? I have another year left in my graduate program so I will continue working with the team. Summer timing is to be determined, but I will keep you posted if I make it back to help West Central coaches with basketball camp! Our team is scheduled to take a trip to Israel in August-that will be quite the adventure!
---