The Hancock-Henderson Quill, Inc.
---
Three facing first-degree murder charges
OQUAWKA -Three people facing first-degree murder charges in Illinois were granted a continuance Wednesday, Dec. 27, 2017 in Henderson County Circuit Court.
Donnie Blakely Jr., 41, and Angel Logsdon, 39, and Amy Hoffman, 38, all whose last residence was of Gladstone, were indicted earlier this month on first-degree murder charges in the Oct. 6 killing of Rex Mynatt Sr., 87, at his rural Carman camper where he lived alone.
According to an indictment made Dec. 1 by a grand jury after hearing evidence prosecutors presented in a closed session, it was Blakley who shot Mynatt in the chest with a .22 caliber rifle. Logsdon and Hoffman are charged with assisting Blakley in Mynatt's death.
No pleas were made Wednesday by the three defendants, each appearing separately and briefly before Henderson County Circuit Court Judge Raymond A. Cavanaugh on the second-floor courtroom of the state's second oldest courthouse.
Cavanaugh granted each a continuance and ordered them to next appear in court Feb. 28.
State's Attorney Colby G. Hathaway said attorneys representing the defendants received the evidence against their clients only a week prior and did not have time to fully review it.
Each of the defendants is charged with various counts of first-degree murder filed under several different legal theories.
Blakley and Logsdon were arraigned on those charges, in addition to others, including unlawful possession of methamphetamine.
Blaise Rogers, a defense attorney representing Hoffman, also sought a continuance for his client, though Hoffman's Wednesday pre-trial conference was for unrelated charges, including driving with a suspended license, aggressive battery toward a correctional officer, obstruction of justice and two counts of forgery, which were made May 25 and totaled about $56 in forged checks.
According to court documents, Hoffman "knowingly made contact of an insulting or provoking nature with Troy Jern in that she struck and pushed Troy Jern, knowing Troy Jern to be a correctional officer with the Henderson County jail, battered in retaliation for performing his official duties." Hoffman also provided false information about an assault to a police officer.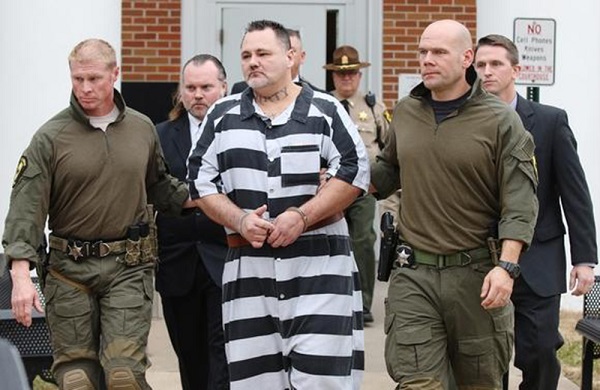 Donnie Blakely Jr., 41, Gladstone, being escorted from Mercer County jail to Henderson County Courthouse in Oquawka to appear in court.
---