The Hancock-Henderson Quill, Inc.
---
2017 Vanguard Outstanding Veteran-Farmer Award, John B. Kane
Veterans and farmers play a vital and integral role in our country. That's why Monsanto wants to recognize deserving veteran - farmers, who not only volunteered to defend our country, but continue to care for America by being stewards of the land and the backbone of our economy.
Monsanto appreciates all veterans for their patriotism, love of country, and willingness to serve and sacrifice for the freedoms we enjoy in the US today.
Monsanto is looking to celebrate veterans and shine a light on their many contributions through the 2017 Vanguard Outstanding Veteran-Farmer Award.
Monsanto is proud to be a "Best in Class" military friendly employer.
About the Program:
•The Vanguard Outstanding Veteran - Farmer Award spotlights the significant and vital contributions veterans and farmers make in their communities and beyond.
•Ten veteran-farmers will receive $1,000 to donate to a non-profit in their community.
•Winners were announced in time for Veteran's day.
2017 Winner: John B. Kane of rural Smithshire, was nominated by his son Jeremy, a Monsanto Area Business Manager in Indiana, for the 2017 Vanguard Outstanding Veteran Farmer award. John, a local farmer and Roseville, Swan Creek, Point Pleasant and Ellison (RSP&E) fire district trustee was selected in October along with nine Veteran Farmers across the United States.
John has been a trustee for the RSP&E fire department for 30 years while also farming in Warren and Henderson County for the last 50 years. John was drafted into the Army in 1966 and spent 18 months in Germany.
Once John received the award, it was an easy decision on where he should donate the $1,000; to the RSP&E Fire Department. John and his family were present to award the check to the fire department October 28th.
2017 marks the 8th year of Monsanto's Veterans and National Guard Network (VANGUARD) which strives to recruit, retain, and maximize veteran talent and thereby demonstrate Monsanto's commitment and support to military veterans and their families.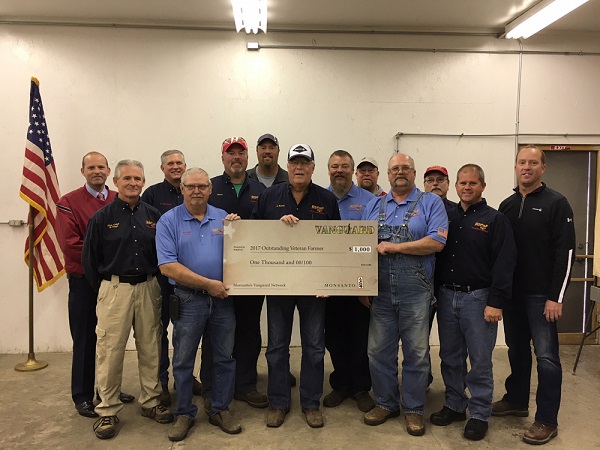 Photo L to R:
Jeremy Wise (Roseville Fire Chief), Darrell Page (RSP&E Fire Chief), Randy Winbigler (Swan Creek Fire Chief), Wayne Hull (Smithshire Fire Chief), Jim Kane, Jason Kane, John B. Kane (2017 Award Winner), Shawn Gibbs, Todd Adkisson (President RSP&E), Tom Galusha, Greg Livermore, Tony Carlson and Jeremy Kane (Monsanto - Area Business Manager)
---