The Hancock-Henderson Quill, Inc.
---
Where Are They Now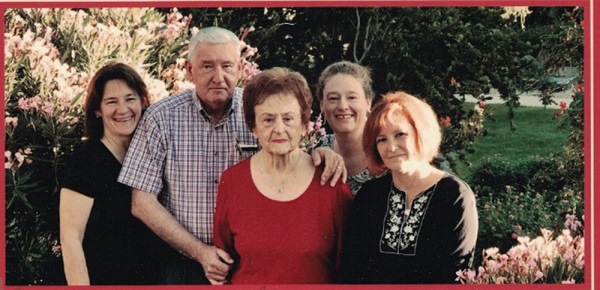 From Norman Howard family
Norman and Marcia Howard moved to Sun City, AZ, 24 years ago, where Norman took over as the minister of the First Christian Church of Sun City.
After retiring from the ministry in 2003, Norman worked as a security officer at Banner Hospital up until 5 years ago when he retired.
However, even though he has officially retired, he has continued to do some pastoral work in the community. Marcia has kept busy in the church and with family and friends along the way. They will celebrate their 57th wedding anniversary in January.
During this Thanksgiving, they were blessed to have all three of their daughters celebrate the holiday with them.
Kim and her husband, Jeff, live in Austin, TX. She is employed by Faith Lutheran Child Development Center. She received her B.A. in Child and Family Services from University of Illinois-Springfield and a B.S. in Education from Lincoln Christian in the same year.
Kim and Jeff have three children: Justin, Kelsie, and Jordan. Justin graduated from Southern Illinois University-Carbondale two years ago with a B.A. in Psychology. Kelsie is a senior at S.I.U.C., majoring in Marketing. Jordan is also currently at S.I.U.C. working towards a degree in Sports Administration and Accounting.
Jill and her husband, Murry, have lived in Coweta, OK, for the past 27 years. Murry is an owner/operator of S&S Specialized Transportation. He does big hauls, mainly pipeline equipment. Jill works for DaVita Dialysis. They have two children: Heath and Ivy. Heath graduated from Oklahoma State University and is a Field Supervisor for Natural Gas Service. Heath is married to Lena, with two children, Alee and David. Ivy graduated from Oklahoma Wesleyan. She works for BS&B Safety Systems, as an AP Specialist, and has a 19 month old son, Hudson.
Jodi and her husband, Brad, live in Kirkland, WA. Both run their own businesses, Brad as a General Contractor and Jodi as an accountant. They have two children: Joshua and Jillian. Josh is a freshman at Lake Washington High School, spending the rest of his time playing baseball, golf, and hunting. Jillian is in 7th grade, spending all her free time playing badminton, volleyball, and taking pictures for yearbook.
---