The Hancock-Henderson Quill, Inc.
---
Take "The Quill" Along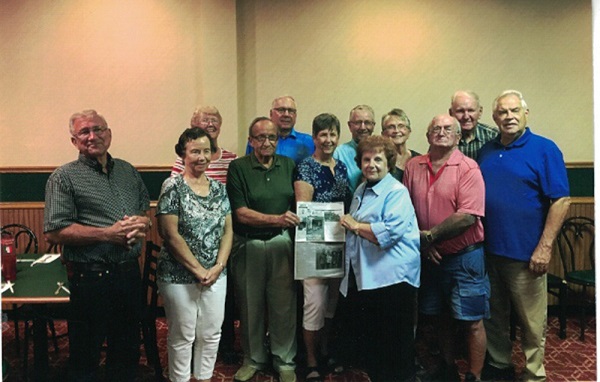 Graduates of Terre Haute High School classes of '57, '58 and '59 had "The Quill" with them when they met on Saturday, August 25th at Gelsosomo's Pizza in Macomb. Those attending were: front row l to r: David Carpenter, Sharon Hoosier Peterson, Lyman Moon, Deloris Klossing Mesecher, Jean Hart McGee, Jim Forquer, Lamar Evans. Back row: Mary Ann Finch Smith, Ben Carpenter, Gary Butler, Sherry Clover Butler, Fred Howe. Also attending were spouses, June Moon, Linn Peterson and Pat Howe.
When you go on a trip, take "The Quill" along, and have your picture taken with it, and send it to us. Let's see where all "The Quill" can travel.
---