The Hancock-Henderson Quill, Inc.
---
Bill Tobias Jr. Recognized For 50 Years Of Service As Volunteer Fireman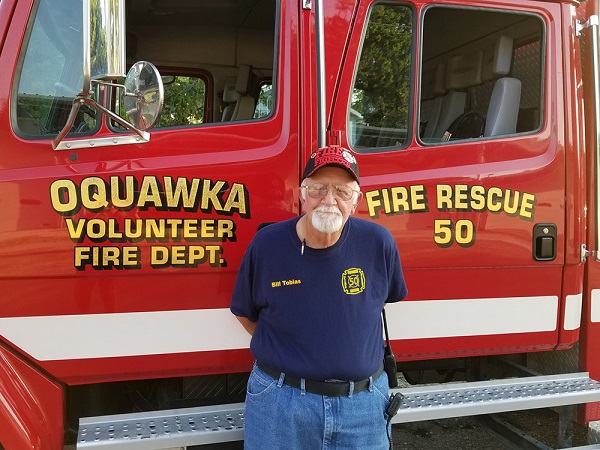 The Oquawka Volunteer Fire Department recognized George W. (Bill) Tobias, Jr. for 50 years of service to our community.
Bill Tobias moved from Keithsburg to Oquawka in 1968 and on August 8th, 1968, joined the Oquawka Volunteer Fire Department.
Bill has served as Assistant Fire Chief, a Training Officer, a Lieutenant and currently is serving as a Captain.
He has worked on fundraisers for the Village Fire Department and started a training program in 1970 on the operations and trouble shooting on apparatus, equipment, maintenance and keeping the fire department and fire trucks clean.
He also serves as the fire department's SkyWarn/Weather Spotter's Coordinator, tracking severe weather and tornadoes which may impact our community.
Bill was one of the first EMTs when the Oquawka Ambulance Service was formed in 1976 and now serves as a 1st Responder.
He has also served on the Henderson County Sheriff's Auxiliary for 40 years.
Bill has pushed for fire and public safety relations for our citizens and our children of Oquawka and surrounding areas for many years.
If an emergency arises, you want Bill Tobias on the scene, dedicated to safety betterment of the citizens of Oquawka and the surrounding area.
We are all proud to serve with Bill and appreciate his continuous volunteer dedication.
Hal Jern, Fire Chief, Retired, Oquawka Volunteer Fire Department.
---