The Hancock-Henderson Quill, Inc.
---
Where Are They Now?
by Becky Smith, The Quill
Many of you remember the Rodefer gals:.Tammy, Angie, Joey, and Betsy who grew up in La Harpe, the daughters of Sam and the late Helen Rodefer.
Tammy Rodefer graduated from La Harpe High School in 1981 and wanted to pursue a career in nursing. She graduated from Southeastern Community College in 1984 with an Associate degree in Nursing and passed her state boards to become an R.N.
She began her nursing career at McDonough District Hospital in 1984 and worked on the medical unit for 10 years.
In 1993, Tammy decided to move to Springfield. Her parents and two sisters, Joey and Betsy, had moved to Springfield in 1988. She and Angie soon decided to relocate as well.
Tammy worked at Springfield Memorial Medical Center on the Oncology unit from 1993 to 2009 and says she still misses working with oncology patients. She transferred to a medical/post surgical unit working there from 2009 to 2014.
In 2014, she left Memorial Medical Center to accept a position with Springfield Clinic in the telephone nurse department. Tammy works evenings taking calls from Springfield Clinic and Memorial Physician Services patients, after their offices have closed, and on weekends and holidays.
Tammy says they give care advice and answer questions over the phone for about 500 physicians in Springfield and the surrounding areas, including the Springfield Clinic doctors in Macomb.
Tammy states "It's never boring and some of the calls we get are, let's say, very interesting." She says they call the physicians on call when necessary for direction and send prescriptions to the pharmacy.
In her spare time, Tammy enjoys just being at home and likes to read or watch TV and Netflix. She also loves spending time with her family and attending her nephew's activities.
Tammy says "we were blessed with some great teachers in La Harpe schools. Some of my favorite were June Jackson, Marta Logan, Pat Edmunds, Jane Fort Edwards, Paula Blythe and Ann Lohman. "
Angela Rodefer is a 1984 LHS graduate and graduated from Southeastern Community College in 1985. She currently lives in Springfield and is a legal secretary for Brown, Hay & Stephens, LLP. in Springfield.
She is a secretary for two defense litigation attorneys. She has previous work experience, in banking, which includes First State Bank of La Harpe and First of America in Springfield as well as experience with another law firm in Springfield.
Angie says she enjoys working in her yard during the summer/fall months, attending her nephew's school activities and reading. She also volunteers in the nursery and attends a women's bible study at her church.
She lists her parents, Sam and Helen Rodefer, as being most influential for teaching her great values. She also adds Jane Fort Edwards for her love for music; Linda Yockey for her secretarial skills; and Matthew R. Booker, her attorney who she has worked with for over 17 years. Angie says "he has taught me a lot, not only about law, but also about being a good person and friend. I couldn't have asked for a nicer attorney to work for."
Tammy and Angie have a dog, Mia Joy, who is 8 years old.
Joey (Rodefer) Rapp is a 1988 LHS graduate and a 1991 graduate from Lincoln Land Community College in Springfield. She also graduated from Undergraduate School of Cosmetology, in Springfield, in 1996.
Joey lives in Chatham and is currently a nail technician at BJ Grand Salon and Spa in Springfield.
She has worked part-time as a nail technician for almost 22 years and says she meets a lot of interesting people and has a great working relationship with her co-workers.
Joey also worked for United Trust Insurance Company, for several years, where she met her husband, Rob. Joey and Rob have two sons. Sam (20) is a junior at SIUE studying environmental science and Luke (18) is a senior at Glenwood High School.
Joey says most of her time has been spent attending cross country and track meets with son, Sam, and band events with son, Luke, as well as scouting events for both boys. Both boys, along with husband Rob, are Eagle Scouts.
Joey still enjoys playing the piano, walking and running, and traveling with her family. She and Rob especially like hiking at various state parks.
Joey's most influential person(s) are Claudia McCain, her piano teacher from 3rd through 8th grade; Jane Fort Edwards who facilitated her love of music throughout school and beyond; and all of her English teachers (Mrs. Jones, Mrs. Sharpe, and Mr. Rigg) because, she says, "I still have good grammar."
Betsy (Rodefer) Wallace attended La Harpe schools from kindergarten through her sophomore year of high school. She finished her junior and senior year graduating at Chatham Glenwood High School graduating in 1990. Betsy attended Lincoln Land Community College for two years graduating with an Associate degree in Accounting.
She attended Illinois State University her junior year of college and then Sangamon State University (now UIS) her senior year obtaining a Bachelor's degree in Accounting.
Betsy lives in Springfield and is married to Michael Wallace. They have two dogs, Tyson and Cooper.
She currently works as an accountant for the Girl Scouts of Central Illinois. She processes payroll for the Central Illinois counsel, completes month end closing processes, tracks cookie and fall product sales, reviews accounts payables and a variety of other accounting related tasks and reporting.
Prior to the Girl Scouts, she worked as an Accountant Lead for Conifer Health Solutions. She also worked at Springfield Clinic in Human Resources as a Compensation Analyst and HR Generalist and in the Accounting Department as a Staff Accountant. Prior to that, she worked in banking.
Betsy loves to sing and is a part of the worship team at the church where she and her husband attend. She says "my husband loves to sing as well, and play drums, so we love to do ministry together."
She also says "I love to scrapbook and do other crafty projects. I love to walk and enjoy being out in nature and spending time with my hubby, friends and family, and attending our nephew's school activities."
Her most influential people include her parents who she says "instilled in me great values and morals." "Also, my husband who inspires me in many ways".
Betsy also says "Jane Fort Edwards was instrumental in helping me develop my singing skills. Singing is something I have done my whole life and one of my greatest joys, thanks to her and my choir teacher in Chatham, Diane Waltrip."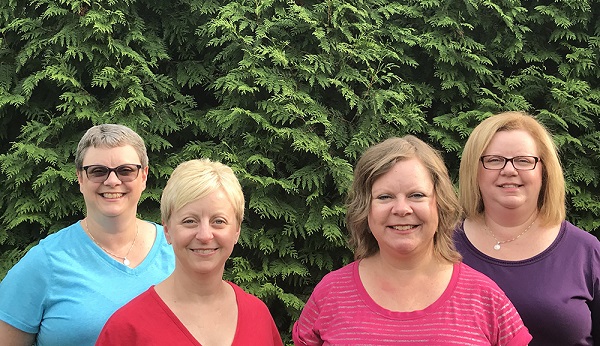 L-R: Tammy, Joey, Betsy, Angie
---