The Hancock-Henderson Quill, Inc.
---
Portrait Unveiled and Hung of Lincoln
Gifted by Illinois State Historical Society
Oquawka- John Hallwas gave a forceful presentation of Abraham Lincoln's thoughts on "liberty" Friday morning at the Henderson County courthouse. The presentation was given at an unveiling of Lincoln's portrait taken in Springfield by well-known photographer Alexander Hesler. It was said it was the only portrait Lincoln ever liked. This beautiful framed copy is being placed in all 102 county courthouses as part of Illinois' Bicentennial celebration. Knox and McDonough counties were hung Friday as well with Chief Circuit Judge David Vancil Jr making the introductions and closing statements. Also speaking was Judge John Coady, of Taylorville, immediate past president of the Illinois Judges Association. Hanging-the 20x40" portrait were Chief Circuit Judge Ninth Judicial Circuit David Vancil, Jr., Circuit Judge Raymond Cavanaugh, Associate Judge Greg Baber, and Judge John Coady.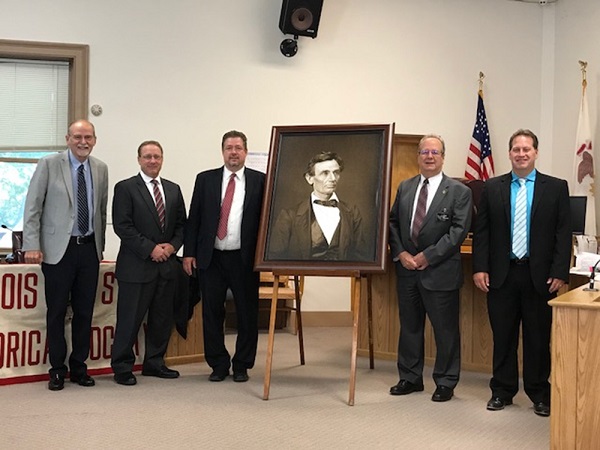 Taking part in the unveiling and hanging of a 1860 portrait of Abraham Lincoln in the county courtroom in Oquawka are from left: guest speaker and author John Haswell, Associate Judge Greg Baber, Chief Circuit Judge Ninth Judicial Circuit David Vancil, Jr., Judge John Coady (retired of Taylorville, immediate past president of Illinois Judges Assoc.), and Circuit Judge Raymond Cavanaugh. -photo by Dessa Rodeffer/Quill Publisher/Owner
---