The Hancock-Henderson Quill, Inc.
---
Where Are They Now?
by Becky Smith, The Quill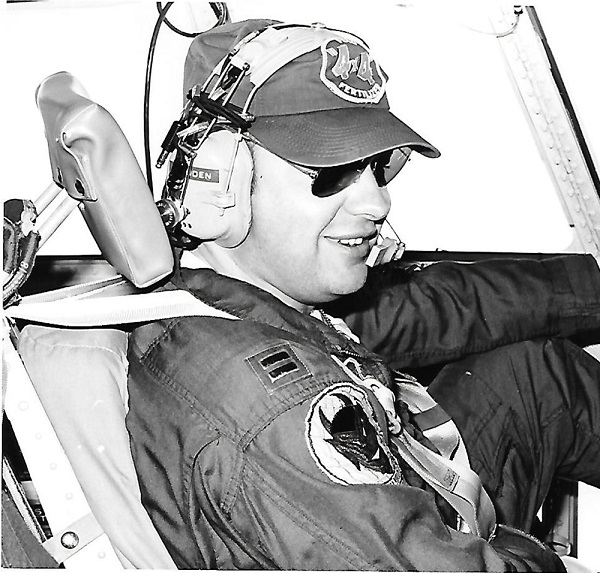 Larry Louden graduated from the La Harpe High School in May 1964. The following month he enlisted as an airman in the U.S. Air Force to begin a 27 year career that ended when he retired from active duty on October 1, 1991 as a Lieutenant Colonel and Command Pilot with over 4500 hours flying time. He and his wife of over 40 years, Pat, are retired and now live in Hot Springs, AR.
Larry, the son of Robert and Joyce Louden, grew up on the farm about a mile or so south of Terre Haute along with brother Rodney and sister Laura.
He attended school in the one room South School, Terre Haute Elementary, and La Harpe High. His dream was always to fly airplanes in the military.
"I read everything I could about aviation especially military flying, built model airplanes by the dozen, and never missed a Saturday morning episode of "Sky King" or Sunday evening broadcast of "Twentieth Century Airpower" with Walter Cronkite. If an airplane flew over the farm I was looking up wishing I was up there too."
When Larry was about 8 or 9 years old, his dad along with friends Frank Jones and Wayne Waddell bought a Piper Cub to learn how to fly. They built a T-hangar next to a grass runway on the farm.
"Rodney and I used to sneak out to the hangar, climb into the seats, and pretend we were flying all over the county.
"We were both hooked-me flying in the Air Force and Rodney as an Ag pilot."
It was even more fun when their dad would load them both into the back seat of the Cub, and they'd takeoff from that grass runway for a warm summer evening flight over the local area.
After enlisting in the Air Force, Larry attended the Air Force Academy Preparatory School and then the Air Force Academy graduating in 1969.
He attended pilot training and earned his wings at Webb AFB, TX on August 1, 1970.
Larry was selected to fly C-130 "Hercules" tactical airlift transports and did so for the next 20 years flying airlift and airdrop missions all over the world to include the US, Europe, SE Asia, Africa, and even Antarctica.
During his career, Larry was stationed in North Carolina, Vietnam, Thailand, Arkansas, Colorado (twice), Alabama, Texas (three times), the United Kingdom, and Illinois.
"I loved the tactical airlift mission. We flew high, low level at 300 feet, single ship or formation, landed on long runways, short dirt fields, day or night, and even on the ice runway at McMurdo Station Antarctica.
"We airdropped/air landed troops and equipment wherever the Army needed to go. The "Herc" was/is a great flying airplane and today's crews are flying newer versions of the C-130 doing the same missions to include Afghanistan and Iraq."
After retiring from the Air Force, Larry worked for Trans World Airlines in St Louis flying the MD-80 and B-717.
Larry was selected to work as a flight simulator instructor at TWA's training center on both aircraft giving pilots initial, recurrent, and upgrade training.
"It was a great way to continue my flying dream. It was especially fun to occasionally fly a route out of St Louis to Moline. That way I got to fly over and look down on my hometown area and even see that little farm where I took my first airplane ride."
Larry retired from airline flying in 2006, and went to work for Flight Safety International as a simulator instructor/evaluator in St Louis, training regional airline pilots to fly the Embraer 170, a 70 seat airliner. In 2008, he fully retired.
He and Pat built a home just west of Hot Springs, Arkansas on 5 acres that was part of the original 40 acre homestead of Pat's grandparents.
Larry and Pat have two sons Jeffrey and Benjamin. Oldest son Jeff, wife Jamie and their blended family also live in Hot Springs.
Jeff's daughter Madison, 23, is the general manager for the Stay Bridge Suites Motel in Hot Springs; his son Christion, 17, is a high school junior at Lake Hamilton High School.
Jamie's daughter, Jesseca and husband Eddie, live in Hot Springs and have a son Parker, 7, and twin 9 month-old daughters Piper and Preslee.
Jamie's twin sons, Jaxon and Jarred, 16, both attend Lakeside High School in Hot Springs.
Their son Ben and wife Kelli live in Belleville, IL.
Ben is the family's third generation pilot and serves full time as a Major in the Illinois Air National Guard at Scott AFB flying KC-135 Stratotankers, flying air refueling missions worldwide. Kelli teaches math at Collinsville Junior High. Daughters Haidyn, 13, and Macie, 11, attend school in Mascoutah, IL.
"We love being retired. God blessed us with a wonderful family and a multitude of friends. It gives us lots of time to attend our grand and great-grandchildren's activities. And we stay busy in our community; me in Lions Club, Air Force Association, and other local groups.
Pat with her gardening, bible study group, and garage sale-ing on weekends with sisters Peggy and Mary.
And we love traveling in the U.S. to visit family and friends and internationally so we can spend time exploring all those countries and cities we have so often read about and seen pictures of.
In fact, our next trip will be in August to cruise on the Danube and visit Budapest, Vienna, Nuremburg, and Prague among others."
Larry closes with, "Flying airplanes was my avocation and vocation my entire adult life. I got to see and go places and do things I only dreamed about as a kid. It was truly an adventure every flight.
"Fortunately for me, my parents ensured that all three of their children received all the encouragement and support we ever needed to pursue our dreams. I am forever in their debt for that and the love they shared with us and each other."
A young C-130 pilot.
Larry and Pat
---