The Hancock-Henderson Quill, Inc.
---
Business Spotlight
by Becky Smith, The Quill
La Shine Detailing - 303 N. State Highway 94, La Harpe
La Harpe- La Shine Detailing opened on May 30, 2017 with partners Lance Blythe and Gary Jackson.
Lance had a vision to serve the community with an auto detailing business and have found it very rewarding to interact with the community and provide great customer service.
La Shine Detailing has completed various detailing jobs on cars, trucks, motorcycles, tractors, semis, trailers, and has even detailed a motorhome. Jobs have been completed, not only for La Harpe residents, but the surrounding area as well, including Carthage, Dallas City, Blandinsville, Avon, Burlington, IA, and even as far away as Rockford.
Lance and Gary take pride in finding the right products to use on your vehicle. They have numerous products for whatever is needed to complete the job right. An interesting "tool" is an under carriage cleaner which is used to thoroughly clean the underneath side of a vehicle which is next to impossible to do at home or even at an automatic car wash. This is great for the salt, snow, and mud your vehicle collects from the winter roads.
Gary will also de-grease the engine, de-bug your vehicle, and will use a special clay bar lubricant and mitt to wash your car which cleans below the surface and helps protect your car after waxing. He uses this on every vehicle now and says it is an amazing protectant.
Gary's biggest reward is to see a person's reaction to their shiny clean vehicle.
He has had customers say "this looks nicer than when I drove it off the lot new".
Lance advises, to protect your car, it is best to wax your vehicle at least twice a year, once at the end of spring (after winter weather and before the hot sun) and again in late fall before heading into winter.
La Shine Detailing is open year round and is located in a heated building. Gary says there is no doubt the vehicle will be completely dry when leaving their shop even on zero degree winter days.
Gift certificates are available and were very popular for Christmas.
Specific business hours are not set so they can be flexible with the customer's schedule. Contact La Shine Detailing at 217-659-3504.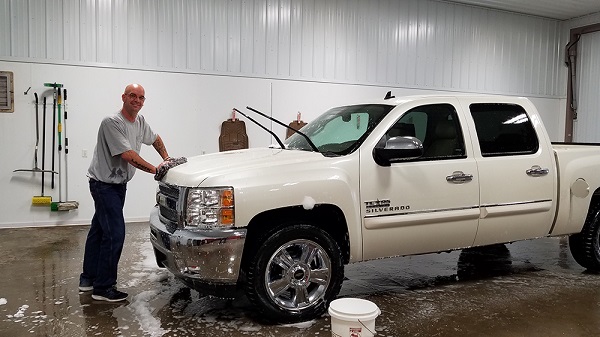 Gary Jackson, busy washing a pickup at his and Lance Blythe's La Shine Detailing.
---