The Hancock-Henderson Quill, Inc.
---
West Central HS Drama Club's Play Is A Success
by Aryanne Westfall, The Quill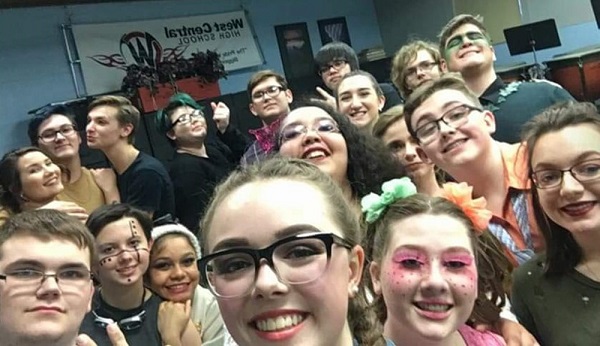 On April 5th-7th at 7 p.m. in the West Central high school gymnasium the West Central Drama Department put on William Shakespeare's "A Midsummer Night's Dream".
Each show had a good turn out, of which, Friday night hosted the largest amount of guests. After bows on Saturday, the very last show date, Ms. Cory, the play's director, was welcomed to the stage by senior Kenna Armstrong and given a gift of appreciation paid for by the cast.
"Every moment I spent with this cast, even the frustrating ones, will forever be with me," Kenna said.
"I'm so sad, and happy. There's just a lot of mixed feelings." Nicholas Barber, a senior, said, who played the character of Demetrius.
"I just wanna say everyone did great. I'm going to miss everyone so much, and I'm happy that my last play was with all of them."
Each senior received a poster that the members of this year's play signed and wrote notes on that included sadness to see them leave, happiness to perform with them, and best wishes for their future.
Many seniors were overcome with emotions on this night. For some, this may be their last performance. For others, they may continue this hobby or career into college or for life. The underclassmen and juniors are sad to see them leave, but wish them the best of luck in life.
Seniors in the play this year and who soon will be graduating include: Kenna Armstrong, Sydney Stewart, Tommy Murphy, Aaron Shinn, and Keaten Blevins.
Audience members were impressed with how well the young actors memorized such long and confusing lines. A lot of guests were glad they came and are excited to see what the Drama Department will bring them next year.
As per usual, a musical is put together every other play, and will be shown in the 2018-2019 school year.
---