The Hancock-Henderson Quill, Inc.
---
Dashing Thru December:
Dessa Rodeffer, Quill Publisher/Owner
December 20, 2017
Getting everyone in the family all together is really a challenge. I almost have to start in January to see all my six children and their spouses and grandchildren.
We were so excited to have most of the family here in July and I cherish those special times when we are able to gather.
At that time, we were missing one spouse, Kevin Burgus, our granddaughter Ali Postle's husband who had to finish up his enlistment in the US Marines. He served his enlistment and is now out of the service and they are living here in a home in Stronghurst.
So, I am excited to sit down at the table Christmas morning and just love on this Marine who we are so proud to welcome home!
The whole family has carried him in our prayers and continue to pray for all those serving our country.
The story of the service community, and the poem "Merry Christmas - Dear Friend" shared on this page by Barnyard Bruke, I hope you read. The story is moving and a reminder of our troops, and the poem is one of my favorite "Night Before Christmas" poems as it depicts the heart of our servicemen and women standing guard, sacrificing, including not being together many times for Christmas with their families.
For most of us, this time of year is our absolute favorite time - when all the stars seem to have aligned in a cosmic-ray of hope! Hope for the future, is exactly what the birth of Christmas gives us.
It seems Bruce Goettsche at the Union Church in La Harpe has perfect timing for his Sunday morning message this week is: "The Gift of a Future" after he preaches the Christmas Eve Eve service on Saturday at 6 p.m. "The Gift of Forgiveness!"
It seems we all need a little forgiveness but we don't always give it. When the hurt is deep, we sometimes think it is impossible. But then we look at the cross.
Forgiveness is a gift that is so important and can heal a lot of emotional stress and brings reconciliation and peace.
Christmas Eve Eve service is a must attend to learn of this "gift of forgiveness".
As I am dashing through December, I did make it this past weekend to Dallas, Texas where I was met at the airport by my son Troy and his wife Erica who entertained me for a weekend of fun. We enjoyed granddaughter Sophia's dance at the Gaylord Texas Convention Center and also in the center is a room kept at 9 degrees where the story, The Night Before Christmas was told in ice sculputres. It is a yearly event, they hand out big parka coats for you to go through, and it is up to you to wear gloves and boots or you will be sorry or rush through the event really fast.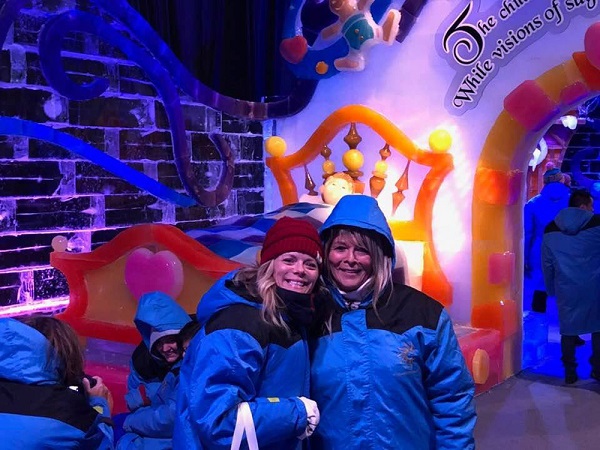 Even with gloves, my fingers were aching. The tour included a room where you could slide down the ice and ended with the nativity and a huge angel was carved from ice. We left the cold to shop the gift shop of Christmas decorations before driving to see the many lights around Grapevine, and then enjoy a hot Mexican meal. As Troy drove, Noah-19, Sydney-15, and Sophia 10 and Erica and I enjoyed singing Christmas songs.
Rushing through December can leave you feeling cold and blue, but planning things with family and friends or doing something for others can warm you through and through.
Michael and I wish you and your family, warmth and peace and a very Merry fun-filled Christmas. God bless.
---