The Hancock-Henderson Quill, Inc.
---
Stronghurst Village Park Explodes In Activitity In 1st Event Of Heritage Trails
by Shelly Gittings, Special For The Quill
Stronghurst was blessed with a beautiful day for the 3rd Annual Fall Festival in Stronghurst this past Saturday.
The Village Park was full of people and families enjoying all the area artisans, vendors, attractions, food and the band. Children were excited about the bounce houses, kiddie barrel rides and cooling off in the Dr. Pogue Memorial Spray Park.
If there was something that you couldn't find here on Saturday then you probably didn't need it.
From home decor, personal care and pampering, baked goods, home and garden, wood products(including toys, furniture and hand carved bowls), more baked goods, handmade crafts, hand sewn items, clothing, pumpkins, mums, food and drink, papercrafts, handmade cards, paintings, jewelry, kitchenware and candles.
Oh my I forgot homemade french fries, honey, music and fun, lots of fun.
There was also music, not good music but great music provided by the The Blue Room Band!
They provided everyone with some good old classic rock n roll. Several people just enjoyed sitting, listening and remembering when those songs became popular. They were certainly a great addition to this year's festival and hope they come back next year.
Well, last year I said we would have more mums and we did. More than double but seems that still wasn't enough. Though it did take about two hours to sell them all. They were all beautiful but the tri-colored mums still seem to be the biggest hit. Next year we will again bring you more, but how much more??
I will quickly mention food. Hot sugared donuts were still a big hit.
The pulled pork meal was delicious. We added taco in a bag, nachos and macho nachos this year and will surely continue that next year as they seemed to be a big hit.
Bryan Hubbard represented Fisher Foods and grilled pork chop and ribeye sandwiches as well as racks of ribs. As I said something for everyone.
The Stronghurst Booster Club said how they greatly appreciated the support of The Stronghurst Village Board, The Bank of Stronghurst, the Raritan State Bank, Dorans Insurance, The Stronghurst Elevator, Quilts and More, Shane Reed Electric, Banks and Beals, Channel-Bob Corzatt, Oaklane Nursing and Rehab, H&H Feed, Bob's TV and Appliance, Fisher Foods, Bygones and Buds, the Stronghurst Fair Board and Farmland Foods. Their support helped us make this annual event a success.
Last but certainly not least, we couldn't do without all the people who came out to help us celebrate the changing of the seasons.
We look forward to seeing you next year on September 15th for our 4th annual Stronghurst Fall Festival. If you are interested in becoming a booster member we meet the first Monday of the month at noon in the Farm Bureau Building.
Hope to see you next year.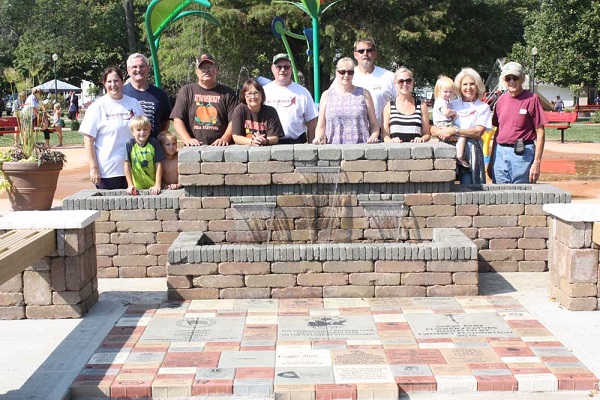 Above is the Doc Pogue's memorial fountain, and benches at the Stronghurst Park during the Stronghurst 3rd Annual Fall Festival Saturday with members of the Booster Club. From left is Melinda Whiteman, Vince Whiteman, Eastan Parker, Tanner Burrell, Ron Gittings, Shelly Gittings, Jerry Keimig, Lori Taylor, Brent Kennedy, Jade Parker, Brooks Parker, Diana Taylor and Jim Blender. -Photos courtesy of Lauren Chockley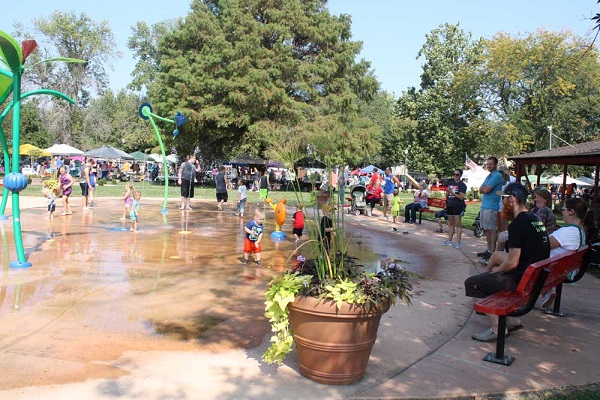 Doc Pogue Memorial spray park was enjoyed throughout the festival.
-Photos courtesy of Lauren Chockley
---