The Hancock-Henderson Quill, Inc.
---
Celebrating Grandparents Day
by Dessa Rodeffer, Quill Publisher/Owner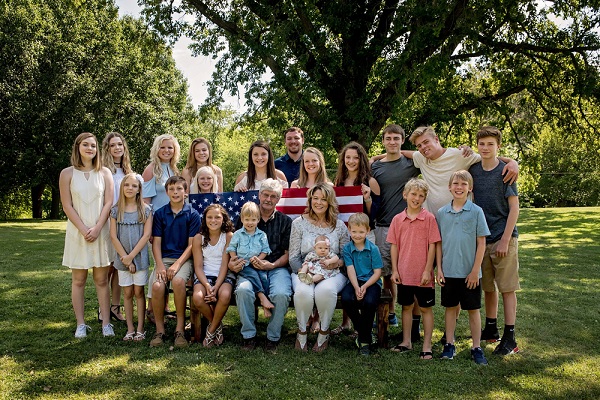 Sunday September 10th was national grandparents day, a day we grandparents can count our blessings. Our family get-together was over the 4th of July and all but three of our 23 grandchildren were present.
It's a grand time when we gather, with the biggest problem being, "Where will everyone sleep?" The eating is pretty easy due to each of the six families providing a meal with the favorite, the fish fry provided by our son-in-law Scott and oldest daughter Tami.
For sleeping this year, Damon and Kellee brought a huge camper that sleeps 9 plus, and parked it in our yard. We put up four large tents with air mattresses for the grandkids and circled them around a firepit. The fire was lit for s'mores and there was lotst of activities in the yard. This 4th of July brought wonderful weather, and a trip to our friends pond brought a lot of fun swimming and boating which made good memories.
Several years ago I had a picture with my 12 grandchildren with the American flag so I wanted to repeat the picture with the 20 who attended. We are missing Matthew Ericson in New Hampshire (his wife and our two great grandchildren) his sister Autumn in Denver (just married) and Carly in Tulsa, OK.
I want to thank our six children and their spouses for raising, teaching, and caring for our amazing and loving grandchildren. It is such a joy to have all of our families together. Being a grandparent is so much fun.
---