The Hancock-Henderson Quill, Inc.
---
Henderson County Heritage Trails Worth Traveling
by Dessa Rodeffer, Quill Owner & Publisher
The idea of a more spread out Hertitage Trails seems to be a success as Stronghurst packed their park on Sept. 16 with vendors and visitors, the Stronghurst HAVOC race and events the following week around the county on the 23rd and 24th in cluding Rogers Pumpkin Farm, then the busy Oquawka Schuyler Street Stroll Sept. 30 and Oct. 1st. The fall weather was perfect for all three weekends. Brenda Tee said Oquawka had 95 cars at their car show.
There was live music, plenty of food, and crafts, and a live western shoot-out games and fun for kids. Everyone enjoyed the action.
The Civil War reenacters enjoyed Indian Park where there is lots of room to grow. They came from Volo, IL/Moline 3rd Kentucky Galesburg , Queen City, MO - 1st Louisiana Macomb/Burlington, IA/La Harpe Southeast Iowa Civil War Roundtable (SEICWRT), Aledo-27 Bloomington Salt Creek Slaughter, Avon 16th US Infantry.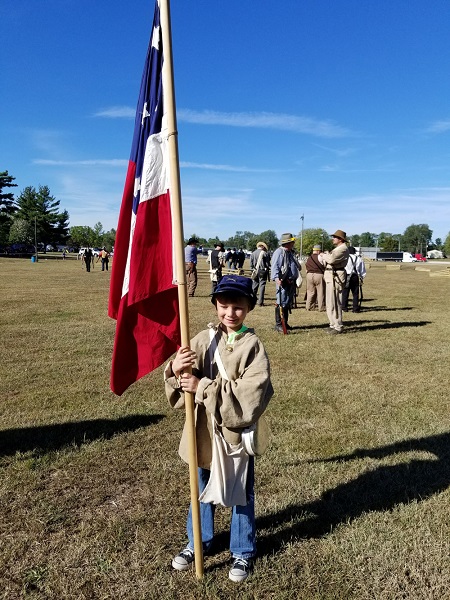 Eight year old Shawn Bielser of Gladstone was excited to be able to take part in the Civil War battle as the flag bearer when reenactors allowed his request. They even searched and found him some appropriate clothes. His grandmother Judy Smith Bielser said he was in hopes he would get shot because he had a real good "fake dying". But after he marched into battle and the noise of the gun powder exploding and the soldiers falling over, Shawn said he didn't think he wanted to get shot. "I was shakin'. The guns were loud and it made me nervous. I was too scared to die." Shawn is the son of Michael and Mary Bielser of Gladstone. He was also able to carry the drums.
---