The Hancock-Henderson Quill, Inc.
---
Illini West Varsity Chargers Win Volleyball Regional
by Michael Rodeffer, The Quill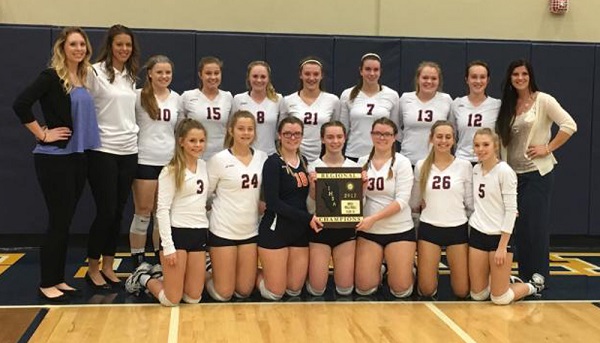 The Illini West girls volleyball team played Abingdon in their first round of the Knoxville Regional and came away with a 25-21, 25-15 victory.
Kelly Sirtak had 12 assists and MacKenzie Duffy had 9 digs.
Michaela Duffy had 11 service points with 4 of them aces. Hannah Wood had 9 kills and 11 digs.
In the regional championship game the Chargers faced Knoxville on their home court.
It was very close contest throughout the match, but the Chargers pulled through to win the match with scores of 25-20 and 25-20.
Gracie McDowell and Hannah Wood each had 9 kills. Kelly Sirtak had 12 digs and 13 assists.
Katelyn Murphy had 5 kills.
MacKenzie Duffy had 18 digs.
The Chargers advances to the Sectional at Farmington and faced a tough Mackinaw (Deer Creek).
Mackinaw (Deer Creek) Ends Lady Chargers Chance at State
Monday night in the first round of sectionals, the Mackinaw (Deer Creek) volleyball girls defeated Illini West Lady Chargers in 2 sets by a score of 25-8 and 25-22.
On the night Mackenzie Duffy had 16 digs, Gracie McDowell had 7 service points, Kelly Sirtak had 3 assists and Hannah Wood had 15 digs and 5 kills.
Their coach said, "We had only 2 returning starters with our tallest girl being 5'7, and we still finished with 18 wins and a Regional Championship. Finishing as one of the top 32 teams in the state is truly incredible!
"We are SO proud of the girls' and the character/effort they showed this season.."
" Thank you to the entire community for your support and encouragement as our girls battled all season long against tough competition.
"You have made this season a memorable one- one that we plan to build off of for future seasons to come!"
---