The Hancock-Henderson Quill, Inc.
---
Illini West 2017 Graduation Day
Illini West 2017 Graduation Day came and went, leaving an ache in the hearts of 84 graduates and classmates of Cale Hartrick, who had died last year of a rare stomach cancer. But, with a stiff upper lip and a smile, graduates were able to celebrate the day in Cale Hartrick style, and say, "I'm Good!"
It was a phrase they had heard often from Cale, when their fun loving brave classmate, went through the worst days, or heard the worst news from doctors-"you aren't going to beat this cancer!"
In front of the graduating class, and packed crowd of faculty, parents, and friends, Cale's mother Deanna, who was the chosen guest speaker by the class, described some of the roller-coast ride, but the always positive response she would receive from her son -"I'm good, Mom."
Before the cancer, little things could seem like big things, when raising your child to be an adult and hopefully a model student, but after the cancer, Deanna said she wondered early on if Cale ever was hearing anything she said, but she has learned, just a few years later, that Cale was listening to everything they said. Her favorite quote now is, "While we teach our children all about life, our children teach us what life is all about."
"Graduates you certainly have taught the adults here today what lessons in strength, compassion, and the ability to carry on and finish your academic career at Illini West since losing your classmate and friend," Deanna said.
Deanna shared things Cale has taught her and said she hoped they will remember as they move forward into their adult life.
First is to let others know how much they mean to you.
As they were driving Cale one morning, he accidently sent the text "Good morning, beautiful!" to his dad who was in the front seat. His dad quickly replied back to Cale with a text "Right back at ya handsome!"
"Seriously dad?" Cale said. Dean replied, "I thought this was our new thing."
Cale said, "No, I'm bad, that text was for Mattie!" Deanna asked Cale, "Do you send this text every morning?" which he replied, "Well, Ya!" Deanna continued, "You mean to tell me every day for a year you have been texting this to Mattie?" Cale's face turned red, and he smiled."
Deanna turned to her husband, and said, "Seriously, Dean, you can learn something from your son."
She went on to tell the Class that she hoped they had someone in their life that they let know every morning how important they are. And she prays that they have someone in their life that lets them know how beautiful they are. She encouraged them to text home and let family know what they are doing or what's going on.
Second - lesson Cale taught her is to say "I am good" even when life is not. In Cale's 18 months of illness, Deanna said he never a complained or an hesitation, but always would smile and say, "I'm good." It doesn't mean days weren't rough, they absolutely were, but he made a decision to stay positive.
She explained that you develope your character muscle by overcoming obstacles and adversity. Many times throughout this life challenges may come your way. Maybe not cancer diagnoses challenges, but job challenges, marriage challenges, parenting challenges, friendship challenges and spiritual challenges will all come your way and you must develope your character muscles. I pray when these challenges come and your muscles are tired and weak and you are ready to give up, you remember the words, "Im Good!" and find strength to carry on.
Deanna said many times your spiritual strength will be challenged as they were with them and you want to ask, "Why Cale?" She said your life can be more fullfilled when you set aside the "why" and replace it with "How" Cale's life can be an example of faith in action.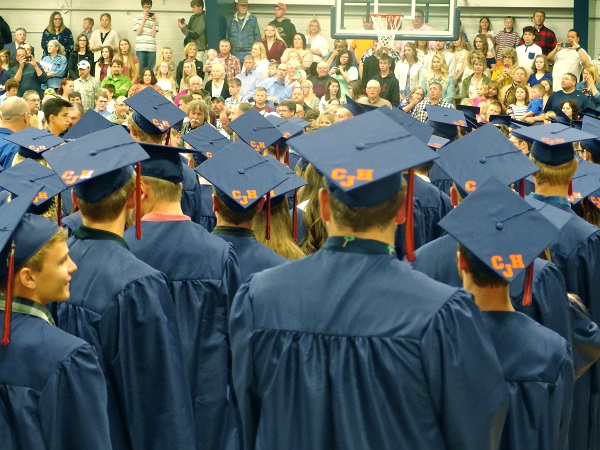 Graduates remember classmate Cale Hartrick who died from cancer and chose his mother, Deanna, to give their commencement address, May 21st.
---