The Hancock-Henderson Quill, Inc.
---
5 Years In Business Is Reason To PartyB1
Jenni Ewing, and Bob and Deb Pflasterer owner of Jenni's Ice Cream & Grill in Lomax are celebrating its 5th year anniversary this Saturday (June 3) with a party and are inviting everyone to help celebrate.
"We want to show our appreciation to all our customers for their support," Jenni said, who said the business has grown after a slow first year.
"I was wondering then if I had made a mistake," Jenni said, but the word had gotten out from customers who stopped by of their homemade pies, unique large "Juicy Lucy" burgers, two sizes of delicious tenderloins, other sandwiches, special fries, and a variety of ice cream items, and the business took off.
Jenni's Ice Cream & Grill's handy location in Lomax helps stop lots of travelers who carry the word to many cities. It is near the three-way corner in Lomax where people from La Harpe-Terre Haute-Stronghurst come from the east, and residents from Dallas City, Fort Madison, IA and the Mormon visitors at Nauvoo come from the west along highway IL 96/IL 9, and the Carman area and Burlington, IA travelers come on the Carman Road from the south.
Jenny said that Bob brought the idea of the "Juicy Lucy" from Minnesota which has become a favorite. It is two quarter-pound hamburgers with cheese stuffed in the middle cooked to perfection.
Jenni said since it is a half pound burger, you have to know how to grill it and make sure it is cooked entirely through without over-cooking it.
Jenni amused, said "We ate a lot of hamburgers, perfecting the Juicy Lucy."
Jenni and the Pflasterers bought the business from Herb Smith.
Since opening in June of 2012, they have added the Juicy Lucy Junior which is the same, but with only one patty (1/4th pound), and they have added a variety of cheeses that can be used.
They also added homemade pies which Jenni makes from lard and have added "no sugar" hardpacked ice cream of chocolate, vanilla, and butter pecan.
They offer chicken wraps, BLT's, handbreaded Tenderloins to name a few items.
This Saturday, it's all about saying thanks and having fun as a community and with family or friends. There will be limbo contests, potato sack races, face paintings and door prizes. A homemade pie will be given away every hour and other gifts, such as a Quill subscription, a free hair cut from Country Roots, Clever Containers gardening gift assortment, and offering 5 cent hot dogs and specials.
Jenni is hoping you will come and celebrate and enjoy the family atmosphere she has tried to create.
"I want it to be a positive place in our community, a place to remember, a home away from home, that you can always come back to. We have really appreciated the support we have received."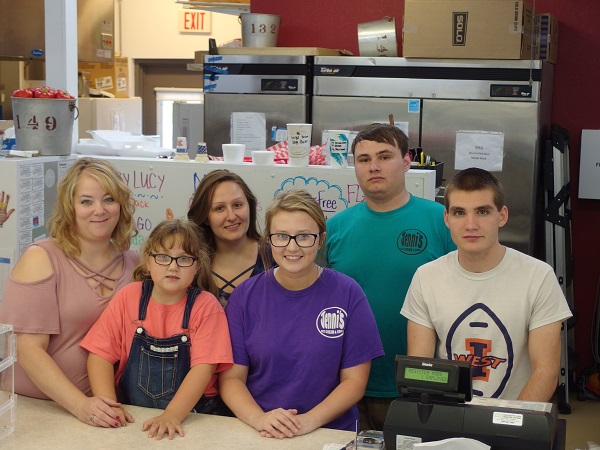 Serving customers at Jenni's Ice Cream & Grill in Lomax are from left, owner Jenni Ewing, her young daughter Olivia Pflasterer, Maddie Finch, Jill Stambaugh, Ryan Pflasterer and Camryn Marshall.
(-owners not pictured are Bob and Deb Pflasterer)
---