The Hancock-Henderson Quill, Inc.
---
La Harpe 3rd Grade Class Plants A Tree For Arbor Day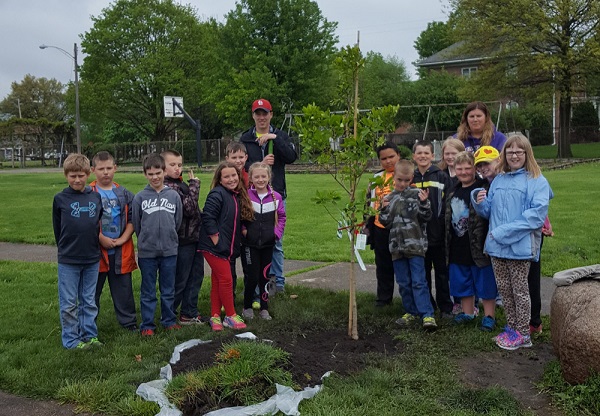 In the spirit of Arbor Day, a student from Western Illinois University visited the La Harpe Elementary School.
Urban Forestry student Adam Wilson works with Ms. Cox's 3rd grade class to plant a tree. Wilson taught the class about the history of Arbor Day, various functions of trees and got the class involved with each process of planting the tree. Wilson worked with Principal McKeown to arrange this event for the 3rd grade class at La Harpe Elementary.
Local businesses were also asked to get involved by making donations to help with the purchase of the tree. First State Bank, K&C Enterprises, West Central FS, Country Cafˇ, R&M Market and Floral, Rasmussen & Dittmer Law Office, Route 9 Shop and Save and Ryan Johnson of Country Financial all contributed to the purchase of this tree and made this event possible.
The species of the tree planted is Chionanthus virginicus commonly known as a fringetree and was purchased at Frese Ornamental Nursery in Quincy.
Paul Blome, instructor of urban forestry in the Agriculture Department, teaches the Urban Forest Management course.
"WIU Urban Forestry students have been partnering with schools and tree donors to conduct Arbor Day Planting Programs since 1993. This is a win-win situation for the school that gets a new tree, the grade school students who learn about and participate in planting trees and the WIU student who gains experience working with community leaders and children while promoting tree planting and environmental stewardship".
Mr. Blome is also interested in assisting any community in becoming Tree City USA. "We know that trees are important to community infrastructure.
Becoming Tree City USA helps to raise public awareness and community commitment." If anyone is interested in more information about Tree City USA for their community, they can contact Paul Blome at WIU School of Agriculture Macomb, IL 61455 (309-298-1160) ph-blome@wiu.edu .
---