The Hancock-Henderson Quill, Inc.
---
Senior Citizens Hold Meet The Candidate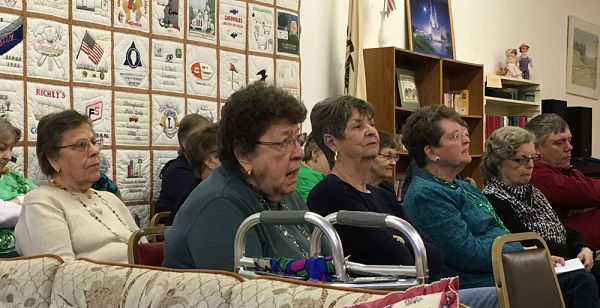 Approximately 30 citizens met at the Stronghurst Senior Center on Friday, March 17th at 7:00 p.m. for the 2nd annual Open Town Hall Meeting sponsored by the Senior Citizens.
This year Seniors invited those who are running for town board offices to a Meet Your Candidate night, for a chance for those not able to attend the Town Board meetings to ask questions and see if they could answer some of our concerns as to how each of them would deal with them.
President Virginia Ross welcomed all present and gave rules for the event. She introduced Judy Roessler who served as moderator, and Virginia was the time keeper.
We were disappointed that two of the candidates for Trustees were not able to join us: Dillan Vancil, and Randy Jarvis who was in the hospital.
Amanda Kane has 2 years left on her term as a Trustee, Brendan Schaley also had 2 years left, he has been serving as Mayor-pro-tem in the absence of Mayor Gary Root, who is out of state.
Each person was given 5 minutes to tell why they were running for office and things that they were interested in supporting in the village.
Two candidates are running for the position of Mayor. Anthony Popp who has lived in the village for 3 years, attended SCC and would like to continue some of the projects and encourage new business.
The second candidate for Mayor, Brendan Schaley has lived here off and on and is raising a family here, has been on the board for 6 years and would like to see Rt 94 project a welcoming look for those passing through.
Besides the two that did not attend the meeting, four others are running for Trustee positions.
1-Mike Bohnenkamp, a 3 term member of the board thinks we should publicize our activities and events more, we need to spend money, to make money .
2-Tom Crotts was appointed to fill out the unexpired term of Jim Spiker last year, he would like to finish doing the sidewalks, help the environment and people.
3-Jerry Nortrup has always lived here, has served on the Zoning Board and would like to help get the water tower up and going. Jerry has been attending the village board meetings since deciding to run for trustee, so he can see what is going on first hand.
4-David Vancil would like to continue to help the community, has been on the board since Dick Stone was president. He is interested in the gutters, alleys, streets, roads.
Each candidate was then asked, What financial experience do you have? Various responses were given with all agreeing that none of them had ever dealt with borrowing that amount of money. Most experience was from dealing with ownership of business, home loans and sharing with other members of the board.
A question time then was opened up with citizens voicing some of their concerns dealing with:
storm water drainage,
connecting to another water system& which we were told was no longer an option.
discussion of the new water tower cost and funding of $1 ½ Million, No Grants available because of the GOOD quality of our water, funding coming from where& CD s, borrowing from Security Savings a local bank, --when asked by a citizen, there was no intent to borrow from Bank of Stronghurst. Also looking for donations.
comparison of other local water tower costs/problems
concerns about increase to begin in water, sewer, garbage bill& .costs should have been raised 15 years ago& the $17.80 will still not cover it all & but should not be another increase for a while. The one or two person household will notice this the most because the rest are already spending more per month.
some concern was raised over the attendance of trustees at meetings and payment whether or not they attend the meetings
recycling places besides regular weekly pickup
promoting of and sites for new businesses
encouraging younger people to come to village
Virginia thanked all those who took the time to come to the meeting, the Candidates and the Citizens. We hope they found it informative and we hope that more will attend our 2018 Town Board Meeting.
Bonnie Hensley, Secretary
---