The Hancock-Henderson Quill, Inc.
---
14th Annual Meeting Hosts NASCAR Hall of Fame Richard Childress
by Dessa Rodeffer, Quill Publisher/Owner
NASCAR Hall of Fame legend Richard Childress delighted shareholders and friends who attended the BIG RIVER RESOURCES LLC, 14th Annual Meeting March 2 as their special guest speaker.
Childress told of his start in racing and said he never thought a $20 investment would take him from his humble beginnings into the Hall of Fame!
In the Hall of Fame's short history, (opening in 2010 in Charlotte, NC), Childress, the owner of Richard Childress Racing (RCR) was nominated every year since the first Class of 5 legends of The Class of 2010 were inducted:
Bill France Sr. (1909-92), Bill France Jr. (1933-2007), Dale Earnhardt (1951-2001), Richard Petty (1937-), and Junior Johnson (1931-).
The Hall of Fame, owned by the City of Charlotte and licensed under NASCAR, offers 40,000 square feet of exhibit space to entertain and educate NASCAR fans and visitors.
One section highlights RACE WEEK, the most interactive area in the facility. It provides a behind the scenes look at what a NASCAR team and industry goes through to prepare a car for Race Week.
Childress's induction into the Class of 2017 NASCAR Hall of Fame this year was very emotional for him as videos prepared by the Big River Resource team depicted in their moving introduction of Childress at the Pzazz Conference Center.
With his induction were the following notes:
Richard Childress Owner born 9/21/1945
Hometown Winston-Salem, N.C.
Premier Series Owner Stats
Competed: 1969-Present
(stats as of 2/24/16)
Starts 2,596; Wins: 105; Poles: 45
Long before he became one of the preeminent car owners in NASCAR history, Richard Childress was a race car driver with limited means.
Still he persevered, which is what you do when you purchase your first car for $20 at the age of 17.
Childress, the consummate self-made racer, was respectable behind the wheel.
Between 1969-81, he had six top-five finishes and 76 top 10s in 285 starts, finishing fifth in the NASCAR premier standings in 1975. Having formed Richard Childress Racing in 1972, Childress retired from driving in 1981. The rest, as they say, is history. Much of that history is linked to one of NASCAR's greatest drivers, inaugural NASCAR Hall of Fame Dale Earnhardt, who won six championships and 67 races between 1984-2000 for RCR. But Childress has had other successes.
In addition to Earnhardt's championships, Childress drivers have given him five others. Childress was the first NASCAR owner to win championships in all three NASCAR's national series, and his 11 titles are second all-time. Childress was the recipient of the Bill France Award of Excellence in 1986.
Around 500 shareholders and friends gathered for the meeting and to hear Childress speak.
Childress told his strong support for ethanol, America's independence from foreign oil, and clean air, and the safety of ethanol in our vehicles.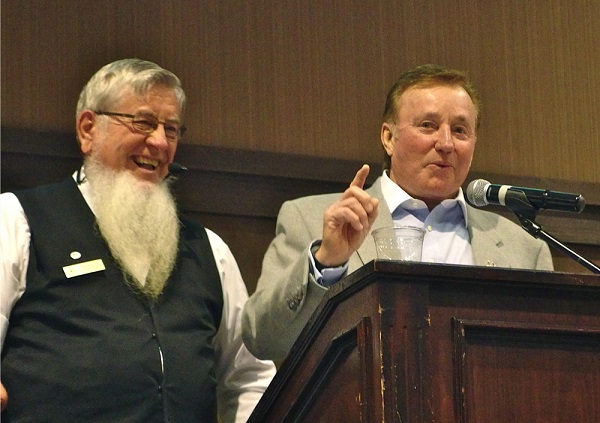 NASCAR HALL OF FAMER, Richard Childress, owner of Richard Childress Racing (RCR) jokes with his friend Raymond Defenbaugh, CEO of Big River Resources LLC during their 14th annual meeting Thursday. Childress was guest speaker for the event held at the Pzazz Conference Center in Burlington, IA.
---