The Hancock-Henderson Quill, Inc.
---
Henderson County Fair Queens
by Tammy Guile, Pageant Director
The 2017 Fair Queens are:
Little Miss Kaylee Mills. Kaylee is the daughter of Ray and Jennifer Mills from Gladstone.
Little Miss 1st runner-up is Islia Rodeffer she is the daughter of Megan and BJ Rodeffer from Stronghurst.
Little Miss 2nd runner-up is Ali Guyton. Ali is the daughter of Amanda and Jason Guyton from Biggsville.
Jr. Miss is Kaylynn Hennenfent. Kaylynn is the daughter of John and Jackie Hennefent from Gladstone.
Jr. Miss 1st runner-up is Gracey Winters. Gracey is the daughter of Travis and Shanna Winters from Raritan.
Jr. Miss 2nd runner-up is Michaela Meyer, she is the daughter of Jeremy and Billie Meyer from Rosetta.
2017 Miss Henderson County Fair Queen is Megan Magee from Stronghurst.
Megan is 20 years old and a Sophomore at SCC. She plans to obtain a degree in Early Childhood Education. Her parents are Missy and Rod Park and Don Magee.
1st runner-up is Abby Dowell. Abby is the daughter of Barry and Terri Dowell from Stronghurst
2nd runner-up is Annamae Brown. Annamae is the daughter of Crystal Brown and they live in Stronghurst.
2017 Henderson County Fair King is Jack Kane. Jack is the son of Cindy and Joe Kane of Little York.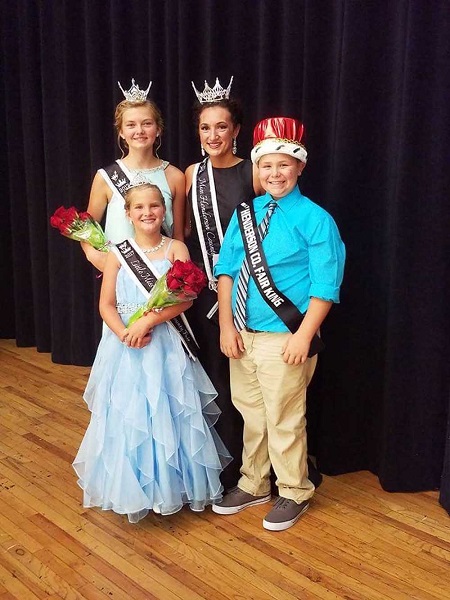 Henderson County 2017-18 Fair Queen, Jr. Miss, Little Miss, and King are from bottom left clockwise, Little Miss Kaylee Mills, Jr. Miss Kaylynn Hennenfent, Queen Megan Magee, King Jack Kane.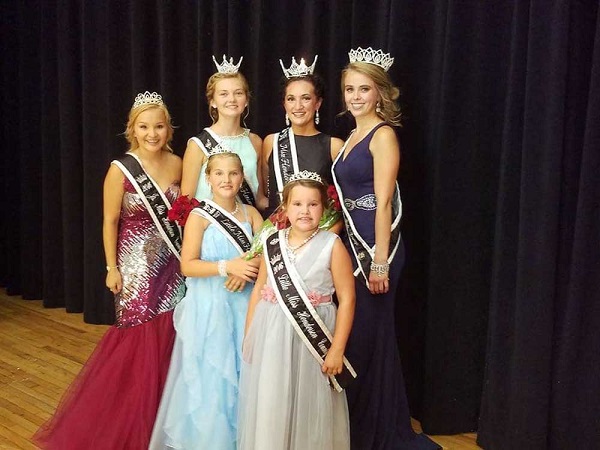 Newly crowned Henderson County Fair Queens with the 2016-17 outgoing Queens. From back left is 2016 Jr Miss Diana Reyes, 2017 Jr Miss Kaylynn Hennenfent, 2017 Queen Megan Magee, 2016 Queen Tara Forbes, with little Miss (from left) 2017 Kaylee Mills, and 2016 Irelynn Boyle. The new Fair Court was chosen Sunday during the Queen Pageant at West Central Middle School gymnasium.
---