The Hancock-Henderson Quill, Inc.
---
Officer Dan Moore Graduates Western Illinois Police Training Unit
Stronghurst police officer Dan Moore, 23, has finished a nine-month extensive police training with the Western Illinois Police Training unit in Galesburg,
The cost-efficient quality in-service training oversees 83 agencies consisting of 1,462 officers.
Training is extensive for the many unknowns that a police officer faces:
Classes in felony stops, control & arrest tactics, 40 hours mandatory firearms training, standardized field sobriety testing, solo officer low-light building search tatics, hazardous material awareness, report writing, ethics, child abuse, crime scene, drug ID, evidence handling, handling juveniles, suicide intervention, communication in the police environment, traffic crash and Ill vehicle code, law enforcement driving, CPR, AED, and much more, to name a few of the many courses Moore was trained in before he ended with his state certification test.
Officer Moore's graduation and dinner was December 16, 2016 and was attended by Stronghurst Police Chief Arbry Vancil and Illinois State Trooper Brendan Schaley all of Stronghurst.
Officer Moore said you would be amazed at the amount of crime and things that go on in Henderson County while you are sleeping. He and Office Vancil are also part time Henderson County Sheriff Deputies and also assist the county and state as needed.
"I love my job, this town and county that I've grown up in and love serving the people of the county," he said, "and I hate to see stuff when people make poor decisions."
Moore attended West Central schools, graduating in 2012 where he was FFA President, and Class Vice President and Treasurer.
He obtained his Associates Degree at SCC in West Burlington, IA in Ag Business & Management in 2014.
His parents are Raymond and Peggy (Pulse) Moore, rural Stronghurst.
His brother is Jeff Moore of Washington, IA, and sisters Ashley Link, Biggsville, and Annjeanette Moore of Stronghurst.
His great grandparents are the late Bob and Lucille Lauver and his grandmother is Billie Moore of Burlington, IA.
Dan is a member of the West Central FFA Alumni Board, a volunteer MST fireman, and first responder on the Stronghurst Ambulance. He attends the Stronghurst Christian Church.
Dan said his first job was at age 13 helping out on the George Harrell farm near his home.
He is now founder and owner of DA Moore Trucking LLC, Stronghurst that he started in 2014. He hauls Ag commodities and refrigerated freight, mainly a variety of processed meat out of Iowa all over the country, such as to Chicago, Pennsylvania, and Texas. He also hauls grain for farmers, and has transported hogs to Beardstown.
He began work out of high school for Sheriff Steve Haynes as a dispatcher and jailer in 2012 and began in Stronghurst as a police officer in 2015 working under Stronghurst Police Chief Arbry Vancil and with Officer Colton Smith.
Officer Moore lives in the Morris addition with his girlfriend Jennifer Olson who works at Great River Health Systems in Burlington, IA.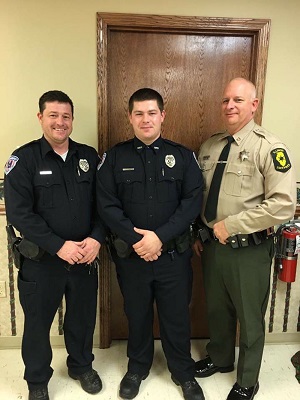 Stronghurst Officer Dan Moore, 23, of Stronghurst, center, is pictured with Stronghurst Police Chief Arbry Vancil (left) and Illinois Master Trooper Brendan Schaley (right) as they attend Moore's dinner and graduation ceremonies recently. Schaley is a Stronghurst Board member and presently serves as Mayor Pro Tem.
---