The Hancock-Henderson Quill, Inc.
---
Resolving To Help America's Poorest
by Dessa Rodeffer, Quill Owner/ Publisher
Many in the Hancock-Henderson readership area have been helping out some of America's poorest thanks to their super heroes, Don and Brenda Young of Batavia, Ohio and Brad Beard of Roseville in their mission work.
Volunteers from the La Harpe area loaded a truck full recntly as well as volunteers from the Stronghurst and Media churches. prior to Christmas. Then last week, volunteers completely filled a 53 foot semi-trailer to the brim with mattresses and box springs in Ohio that was driven by Dale Gibbs of the Swan Creek area.
Gibb had driven his semi trailer from Illinois to Ohio and helped load several hundred units given to Christians Across America by the Holiday Inn and Suites chain of hotels. These mattress sets will provide bedding for several hundred Indian families.
Mr. Gibbs left Ohio and was joined by Brad Beard of Roseville with another truck load of supplies from the local area and together they left Roseville for the Reservation in South Dakota.
These loads will assist the families in Manderson, Wounded Knee, and Porcupine, Kyle, and Wanblee Communities.
Brenda and Don Young will be leaving and following up on Mr. Beard's and Mr. Gibbs' loads, taking a third load of supplies for children in the schools Crazy Horse, Wounded Knee, Little Wound, and Porcupine.
In this cooler region of the U.S., it is hard to believe that 57% of the homes in that area have dirt floors, little electricity and water, and no sewage facilities. Currently, the entire reservation is under severe blizzard conditions.
This ministry is a joint venture of Christians Across America founded by the Youngs of Ohio, and Cup of Cold Water founded by Brad Beard of Roseville.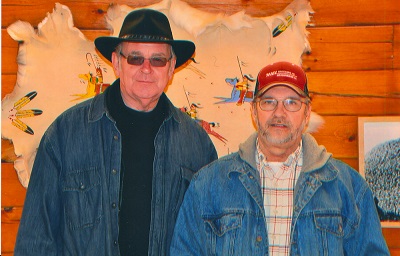 Don Young of Batavia, OH (left) and Brad Beard of Roseville smile after delivering many items for America's poorest at Indian communities in, S.D.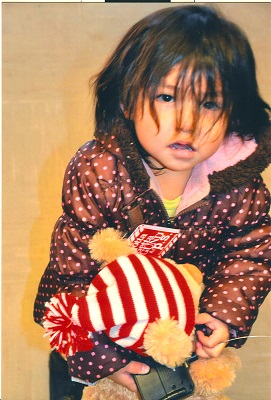 A little girl from an outreach facility in South Dakota Indian reservation was handed her first stuffed animal to hold.
---