The Hancock-Henderson Quill, Inc.
---
Live Nativity Tells The Christmas Story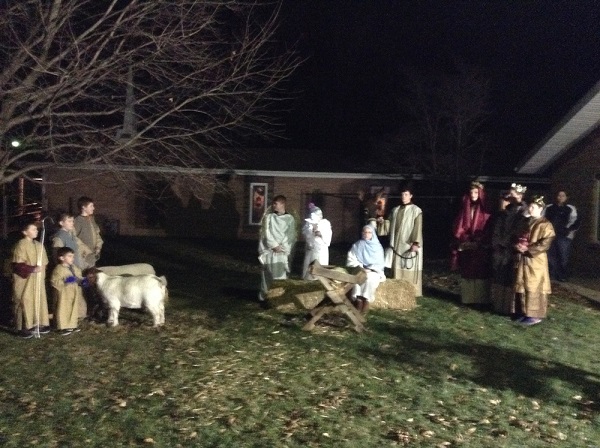 Large Crowd, Is Drawn To The Manger
Stronghurst- A large crowd was drawn to a live nativity Saturday evening as the Sunday school youth, comprised of the Stronghurst Methodist Church and the Bethel Lutheran Church portrayed the "Reason for the Season', in a live nativity on the lawn of the Stronghurst United Church.
Shepherds were portrayed by Spencer Jack, Hunter Shrader, Drake Vancil, and Riley Shrader, along with Marshmallow, the sheep, and Hillary the Boer goat.
Wise Men included, Nathan Wetzel, Tucker Peterson, and Ross Vancil.
Angels consisted of Tiegan Cox and Adalyn Haynes.
Mary was portrayed by Peyton Jack and Joseph by Alec Vancil, along with Forrest the donkey.
Quentin Peterson narrated the Christmas story, four times during the evening.
After hearing the Christmas story, guests were invited inside for chili, hot chocolate, and cookies.
However, food was not the only thing inside as there was warmth, laughter, greeting old friends, hugs, and fellowship to add to the glorious evening.
---