The Hancock-Henderson Quill, Inc.
---
Unique Idea: Golfing and Hunting
by Dessa Rodeffer, Quill Pubisher
Wherever you go, you usually run into a craft show or farmers' market but one thing you may not expect is to find one right in front of the Mayo Clinic in Rochester, MN., but that is exactly what I found.
On First & 3rd Streets, a Market & Music Festival pumps life into the area with a weekly outdoor market of over 100 art, craft and food vendors and live entertainment every Thursday throughout the summer.
You will find the best sorberts, fish, pork, or beef tacos, pizzas, homemade specialty cup cakes, cheese cakes, cheese plates, carved canes, all kinds of paintings and jewelery, scarves, rugs, pottery, wood pens, candles, and this time I stopped along a booth that had a golf appeal but the craftsman was selling wooden ducks of which many seemed somewhat worn.
With a questioning look on my face, Jim Kasmarek, from Wisconsin, came over to explain. He said that his father, a World War II veteran, and an engineer, had taught him many things before he died. One was the love of golf, and the other was duck hunting. "I was trying to think of a way I could combine the two," he said. I found by taking an old golf wood, and removing the handle, I could carve a duck head and attach it onto the wood. "Each duck has a story, and each golf wood has a memory," Jim said and he provides the story along with each purchase.
Jim said, "My hand-crafted Wood Ducks are a celebration of those moments." He suggests to share a Wood Duck with someone you love, respect and admire, and said it makes great gifts for all outdoor enthusiasts.
"Hunters appreciate the different species of duck, and golfers enjoy seeing their old wood drivers given new life.
He explains, "his individually hand-crafted Wood Ducks are created by combining a vintage wooden driver golf club with a wood-carved duck head. The duck head is carved from basswood, colored with an oil-based stain and fitted with real glass eyes. The head and club are carefully matched to create a one-of-a-kind decoy replica.
"Accompanying each hand-crafted Wood Duck is a brief historical background of the golf club head's origin and description of your duck species."
You can tell visiting with Jim that he puts a lot of emotion and love into each piece."
He said that his father was an excellent golfer and Jim is an avid duck hunter. He will be traveling to Galena over the weekend to sell his ducks and hopefully will come to the Snake Alley craft show next year. He is also available on line at woodducknation.com.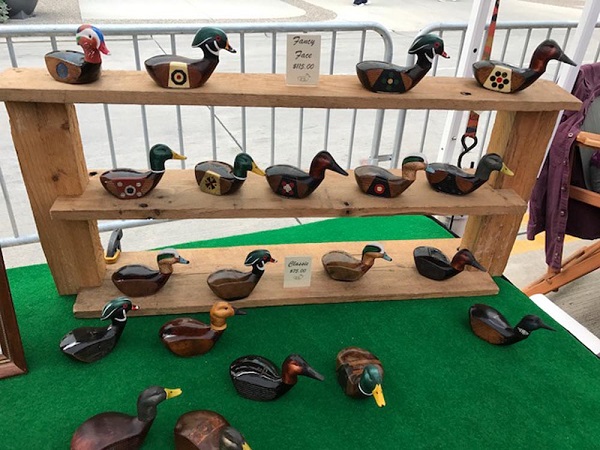 ---