The Hancock-Henderson Quill, Inc.
---
Josh Andrews Tells What It Takes to Become a Hawkeye
by Dessa Rodeffer, Quill Publisher/Owner
Just this past week, our grandson Josh Andrews, 18, started his first week as a Freshman at the University of Iowa as part of the Hawkeye track and field team. Getting to this moment has been a goal of his and has taken a lot of dedication and effort.
Josh has been running competitively for the past seven years. He has improved year-after-year and just completed a record setting High School career at Waukee High School, in Waukee, Iowa. Over his 4 years at Waukee High School Josh has set many records. He has the 9th grade 800m, 10th grade 800m, Varsity Indoor & Outdoor 400m & 800m records.
He is also part of 5 different relay records which includes 4x800, 4x400 and 1600m medley outdoor and indoor. He has been a part of 2 state championship teams, and has ran on two 4x800 state championships teams and one Drake Relays 4x800 team. This past year he won both the State and Drake Relays 800m race. Not only was he the first athlete at Waukee to ever win either one of those events, he won them both. Finally, Josh holds the boys' school record for most state track medals over his 4 years with 10 medals.
In visiting with Josh, he explains what it took to become a consistent winner and eventually his senior year taking the 800m and 4x800m during the Drake Relays in April and following up in May with the same two wins in the State meet as wells as taking 2nd in the 400m. These performances and consistent improvement helped bring him scholarship offers from many colleges around the Midwest including his scholarship with the Iowa Hawkeyes.
What does it take to get to the place you win? "Dedication!" Josh said. "You have to have commitment to your team, you have to put your team first. You work hard in order not to let them down. Teammates," he explained, "become very close. It's who you spend all your time with. It's a great group of guys with the same philosophy and that's winning!"
Second, he said, "Being the best you can be. Then, of course, it takes some natural ability, but it's about making good choices. Maybe, not going out with friends the day before a race, getting to bed on time, train 6 days a week rain or shine--no excuses!"
Of course, it helps to be blessed with the best distance track coach in the state. I definitely have a lot of respect for my coach as well as my dedicated teammates."
Thirdly, Josh said, "Training began in 6th grade. I ran club track and began working on the fundamentals such as form, focusing straight ahead-pumping my arms and then fundamental strategies such as kicking near the end of the race.
Then there is nutrition and strategies to go along with it. For instance, "There are times to eat and times not to eat to benefit athletes, Josh said. "Two hours before a run a turkey sandwich meal will burn off two hours later during the race while giving you energy for the race," he said.
Also, weight-lifting, being early, and of course, practice, practice, practice!
Five days a week at the beginning. Watching others run and compete gives you knowledge and inspiration."
Josh said, if he keeps his focus and trains hard and smart, he has the faith that God will give him the strength to finish each race.
In setting goals, Josh said, it is to be a "Big 10 All American." placing among the top 8. He accomplished his goal of winning two state titles, winning in the Drake Relay and gaining scholarship offers for track.
The benefits are recognition for hard work, being fit, and "who doesn't want to win!" he said.
How does Josh deal with injuries and sickness? Josh said he tries to keep fit but sometimes there is sickness and injury. Breaks in a fitness program can be hard and sometimes the end for an athlete, but for Josh, he says it comes back to dedication.
So, if he is under the weather, a run might be a stationary bike-ride or a bout with tendinitis might require physical therapy, stretching, ice baths and a modified workout such as taking a six-300m workout down to 2 or 3. He might just slow the pace down versus stop the workout completely.
Stomach flu and strip would be total rest but always when back on his feet, Josh returns to his 6-day routine.
The summer before Cross Country, his knees were bothering him with tendonitis so he held up on training heavily until they healed.
"Doctors and smart coaches realize that healthy athletes win races," he said.
Josh commends his coaches from Waukee High School, Josh Maxwell, distant coach, and Brent Heitland, head track coach. The boys team consisted of 178 boys last year and Waukee is considered one of the top athletic and academic high schools in the state.
Josh is the son of Damon and Kellee Andrews of Urbandale, Iowa. His father was a Southern High School graduate and both parents are graduates of Central College in Pella, IA. His father played basketball, football, and baseball in high school and football and basketball in college. His mother played basketball, and ran track in high school and ran track in college.
Josh is one of ten mid-distance runners listed on the Hawkeye Track & Field team roster of sixty. The ten are:
Freshman:
Josh Andrews of Urbandale, IA
Alec Still of Kinsley, IA
Matt Lorenz, Cedar Rapids, IA
Karayme Bartley, Lions Town, Jamaica
Sophomore:
Tyson Vandraska, Cedar Rapids, IA
Nolan Teubel, Libson, IA
Matt Manternach, Monticello. IA
Anthony Chaidez of Sylmar, California
Senior: Carter Lilly, Sioux City, IA
Ryan Dorman, of Iowa City, IA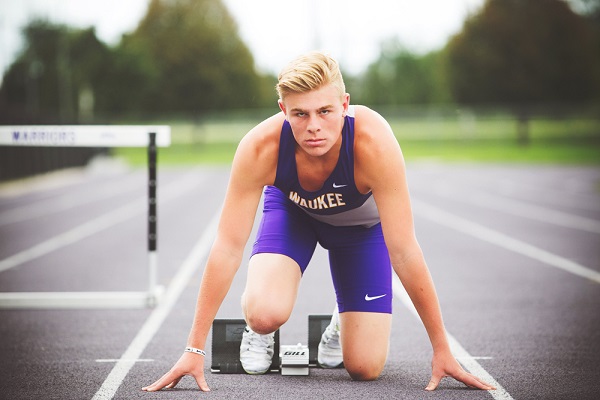 Josh running the 4x800m in the Drake Relay.Relay.
---