The Hancock-Henderson Quill, Inc.
---
La Harpe Classic Car Show
As far as the eye can see-people and vehicles; why do they come?
La Harpe:Chris Wright of Canton, proudly leans against his "bad" 775 hp 2013 bright yellow supercharged ZL1 Camaro Convertible with every dealer-installed add-on available plus an extra 622 hp at the rear wheels-a dream come true.
The "big block" enthusiast said for years, he's had the ZL1- Bill Porterfield fame 1969 Camaro poster hanging in his office at Caterpillar.
He had carefully taken out the staples and removed the pale yellow "ZL1" from the centerfold of a 1989 Car Craft magazine and its been on his wall every since.
Then magically, a new ZL1 appeared back on the market in 2013. GM had announced with its 35th Anniversary Camaro, that it was quitting the production of their iconic Camaros.
Why is Wright in La Harpe? "It's simple," he said, "My Camaro is a ZL1, I had to bring it home to where it all started! It belongs here!"
Wright explains, "Fred Gibb was intrical in convincing Chevy's "Vince Piggins" to put a 427 cubic inch motor in those 50 plus '69 Camaros, and brought out the first ZL-1's." Wright said, "I was born in 1969 and since I can remember, the 1969 ZL1 yellow big block Camaro has always been my dream.
Wright was expecting the car to be a 1969 yellow Camaro but when GM announced they were returning the production of their Camaro in 2010 and big block ZL1 coupe in 2012 and then the big block ZL1 Camaro convertible in 2013 with a 6.2 liter V-8 super charged 580 hp toping 185mph plus in bright yellow, he started making calls.
Chris got lucky May 15th with an offer to buy a used fully loaded ZL1 for less money than a new one and with only 6,413 miles, an added 4 kit LSA-Katech Performance that boosted the hp to 775 mph. The loaded 2013 ZL1 values new at $68,000 without the $13,500 motor add on, but Wright paid $51,000! He enjoys his dream car and has the mileage up to 15,000.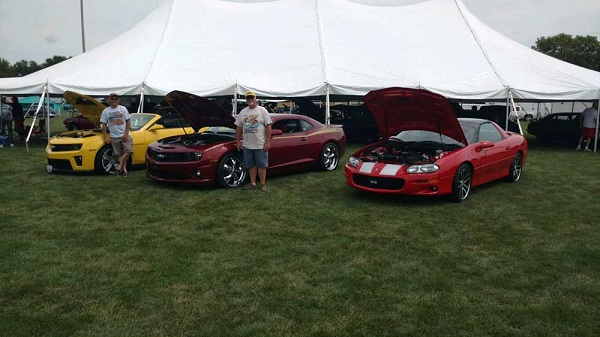 From left: Chris Wright, Canton, with his 2013 bright yellow Camaro ZL1 convertible and Bob Lionberger who worked with Fred Gibb with his 2010 Fred Gibb Proto Type Nickey Camaro, 6.2 liter V8 620 hp & 2002 35th Anniversary Camaro ZL1, one of 50 converted by Matt Murphy of Georgia with a 520 hp engine. All this took place at the La Harpe Classic Car Show
---