The Hancock-Henderson Quill, Inc.
---
Take "The Quill" Along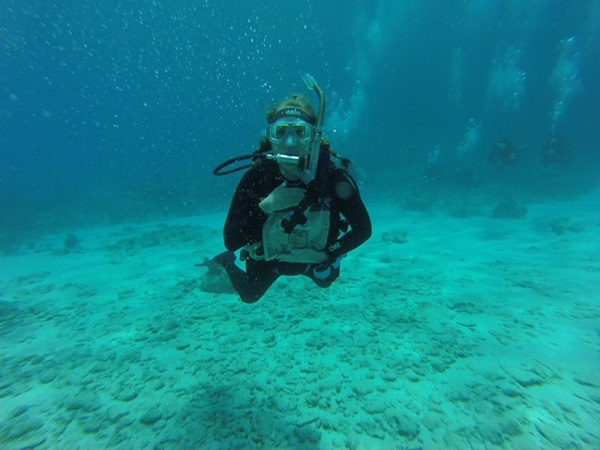 Sandy Bell, Burlington, Iowa, one of the creative stylists at the Styltique Salon on Jefferson Street, took "The Quill' along under water this month into the Atlantic ocean, deep sea diving in the Caribbean islands.
Sandy was on an adventure with her diving team near Aruba at the "green island" of Curacao. She was at the Lions Dive and Beach Resort. The island is off the coast of Venezuela, South America. She enjoyed many exciting adventures including deep sea diving, ATV adventures, bat cave exploring, enjoying great weather and good friends. She was impressed with the care the islanders and resort staff put into caring for their properties.The diving was excellent and the soft white sand and shade provided by large trees, were lapped by the stunning turquoise waters.
Earliest known inhabitants were Arawak Indians who arrived some 6,000 years ago, followed by Spanish explorers who came in 1499 seeking gold and treasure. Finding none, they included Curacao as a "useless islands". The Dutch were after something else, Curacao's deep-water port. They seized the island in the early 17th century and launched Curacao's long tradition as a trading center attracting immigrants from around the world, and today includes people from over 50 nationalities.
Wealthy Dutch traders built stately plantation homes, some of which have been restored and house restaurants, art galleries and museums. The island's history may be explored in other ways, the obvious starting point is Willemstad, the storybook capital.
When you go on a trip, take "The Quill" along, and have your picture taken with it, and send it to us. Let's see where all "The Quill" can travel.
---