The Hancock-Henderson Quill, Inc.
---
Area Pastor Publishes Tenth Christian Book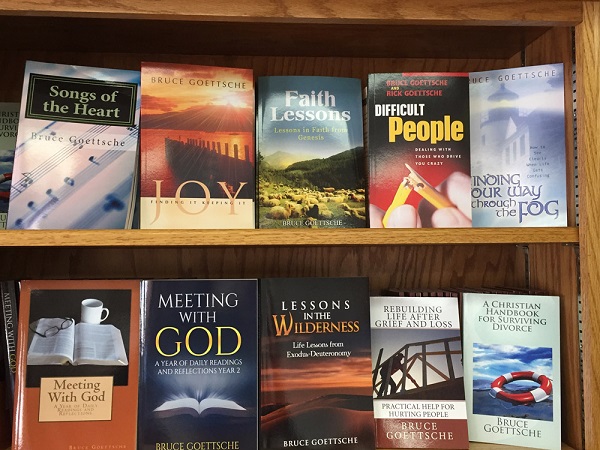 La Harpe- Bruce Goettsche Pastor of the Union Church of La Harpe loves to write. That is evidenced by the fact that over the past three years he has released six books!
His latest book, Lessons in the Wilderness is 270 pages and explains the main stories of Exodus, Leviticus, Numbers and Deuteronomy in the Bible. Goettsche says it is a sequel to his first book Faith Lessons: Lessons in Faith from Genesis which was written back in 2001 (and has just been revised and re-released).
The book has discussion questions after each chapter to make it usable for small group studies.
This is not a commentary. It follows the story of these books that is often lost in the many laws and regulations.
Goettsche has written a wide variety of books. He has written two one-year devotionals titled Meeting with God (vol. 1 and 2), a book on Divorce (A Christian Handbook for Surviving Divorce); one on Grief (Rebuilding Life After Grief and Loss); and a book on getting along (Difficult People: Dealing with Those Who Drive You Crazy) which he wrote with his son Rick, the Associate Pastor at the church. His other books focus on explaining the Bible in practical terms (Songs of the Heart (Psalms); Finding Your Way Through the Fog (Colossians); Joy: Finding It Keeping It (Philippians) in addition to Faith Lessons (Genesis) and Lessons in the Wilderness (Exodus-Deuteronomy).
Goettsche said he always wanted to write but didn't know what to write. That changed when a member of his congregation encouraged him to put his sermons from Genesis into book form. At this same time, he had what he calls, "a divinely appointed" e-mail conversation with an established writer.
Bruce had read a sermon this man had written and e-mailed him to ask permission to use a section of his message. As he opened his e-mail program there was a letter from that same Pastor to him asking for permission to use one of Bruce's sermons! The exchange that resulted led to a discussion of writing. "Dr. Pritchard said two things to me that changed the direction of my life." He said â"I've read your stuff and you need to write" and "think in terms of books instead of just one book." Goettsche took his advice and has been writing ever since.
Goettsche is often recognized from his local radio program, "God's Truth for Daily Living" which airs on weekdays and Sundays on stations from Lincoln, Illinois to Ottumwa, IA.
What's next for the 62-year-old Pastor (who has just enjoyed his 35th anniversary in La Harpe)? He is working on a Children's book (looking for an illustrator) and plans to collaborate with his son on a book they hope to have completed by the end of this year.
All the books are available on Amazon.com and all are available in Kindle format. Bruce says, "I have the privilege to share the most important truth there is. And I also like the idea that when the Lord takes me home, some of my heart, some of what God has taught me, will live on in the pages of these books."
Bruce said it helps a great deal when people leave reviews of the books they purchase on Amazon.com.
---