The Hancock-Henderson Quill, Inc.
---
Boy Scout Troop 61- Court Of Honor
Scouts from Troop 61 in Oquawka were honored during a Court of Honor on March 26th. Scouts were awarded merit badges they had earned during merit badge clinics held at Great River Medical Center, Monmouth College and merit badge clinics held within our troop. Pastor Howard Ross from the Oquawka United Methodist Church was present and presented Scout Sunday patches to our scouts who took part in Scout Sunday services. The Oquawka United Methodist Church has been the Charter Organization since 1987 for both Pack & Troop 61. Rank Advancements were also awarded to the scouts.
Assistant Scout Executive David Lane was also present to do our Friends of Scouting presentation.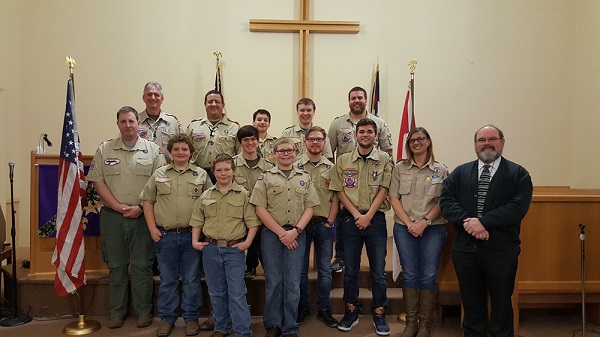 Front row from left are: Joe Tucker, and Parker Brownlee
Middle row from left: Assistant Scout Executive David Lane, Mikhail West, Brady McGraw, Jarid Guyton, Hunter West, District Committee Member Amanda Guyton, Pastor Howard Ross
Back row: Scoutmaster Scott Ray, Assist. Scoutmaster Steve Moede, Conner Moede, Oleksiy Baker and Assist. Scoutmaster BJ Kelly
---