The Hancock-Henderson Quill, Inc.
---
Spotlight On Business: Jones Insurance Agency
by: Deb Olson, The Quill
125 E Main St., La Harpe, IL
Jones Insurance Agency, located on Main Street in La Harpe is the successor to the Howd Insurance Agency, which was started by Jim Howd in the early 1920's.
His son, another Jim Howd, came into the business circa 1941. Next the business was passed on to a third generation to Jim's son, Joel Howd.
Joel's tenure ended in 1985 and the Howd family business was sold. It was at this time that Jay Jones became the new agency principal.
As with all businesses, the insurance industry has changed over the years. Instead of business done solely with rate books or papers and telephone, much of the insurance business today does business online. That includes e-documents, a web-site and of course e-mail.
Jay Jones began working in insurance in 1982 with Country Companies. Beginning work with Howd in 1985, he was a partner in Howd and Jones which would become the Jones Insurance Agency.
In 1990 the Jones Agency purchased Keithly Insurance in Blandinsville. For a short time the business had two offices (one in Blandinsville and one in La Harpe). After a number of years the two offices combined in La Harpe location.
With 34 years of experience in the business Jay Jones focuses on Life, Health, Commercial, Farm and Crop Insurance.
Cindy Anders first worked with Country Companies before joining Jones Insurance in 1985. She has 32 years of experience in the business. Her focus is on accounting, office management, automation and commercial quoting.
Maggie Link has worked with the Agency since 2007. She will celebrate 10 years with Jones Insurance Agency in May of 2017. She handles all personal lines and new business quotes. She also works with claims assistance.
Part of the mission statement of the business is "to provide our clients with professional service and expertise, by evaluating and monitoring their changing insurance needs".
Maggie Link stated, "It is Jones Insurance's job to make sure each client understands the coverage they are getting and to also help them get what they need."
Licensed to do business in Illinois, Iowa and Missouri, the Jones Insurance Agency is an independent insurance agency working with multiple companies in an effort to provide, their clients with their best options.
You can contact the Jones Insurance Agency by phone at 217-659-7786 or visit their website at
www.jonesinsagency.com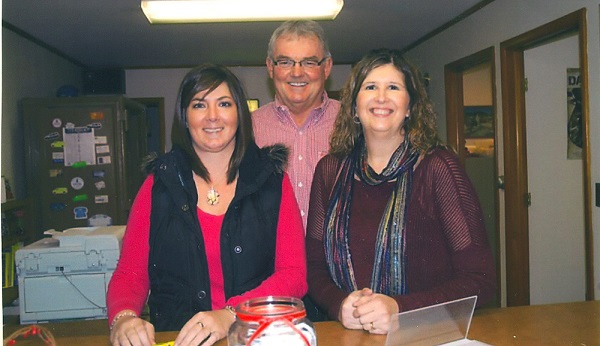 From left is Maggie Link, Jay Jones, or Cindy Anders. Contact them at Jones Insurance Agency, phone 217-659-7786, and visit their website at: www.jonesinsagency.com.
---