The Hancock-Henderson Quill, Inc.
---
West Central Homecoming King-Queen Candidates
West Central High School will be celebrating their homecoming this week and are hoping many graduates of the past Union and Southern and other high schools in the county will come support the consolidated efforts of the West Central Heat as they face MID COUNTY at the West Central North Campus in Biggsville Friday night September 23rd. The game begins at 7:00 p.m. Come support the Heat and witness some exciting West Central Homecoming activities along with a great varsity football game under Coach Jason Kirby and his fine coaching staff. See the band and hear their music and help the Heat cheerleaders cheer their team on to victory.
Saturday, Sept. 24 is the Homecoming Dance: 7-10 p.m. with coronation at 9:00 p.m.
WC High School 2016 Homecoming theme is Rock-n-Roll through the Ages. Events Thursday: Power Buff at 7:00 pm with Bon Fire following. Friday there will be a Pep Assembly at 12:30 p.m. The Heat stand 1-1 in conference games and are at 2-2 over all and are finalizing their plans for a successful homecoming.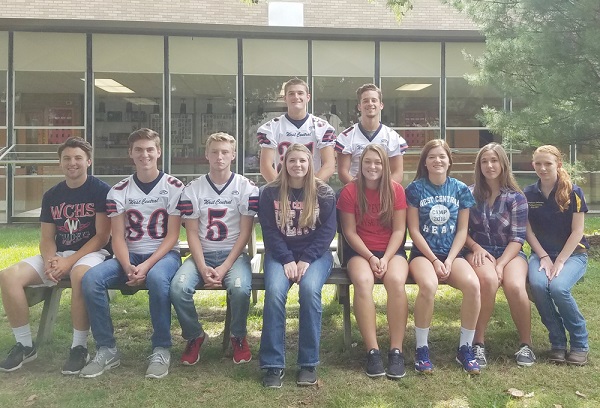 The West Central king and queen candidates who were selected from the senior class are from left to right:
Front row: Braeden Reed, Luke Arnold, Chandler Diehl, Megan Krieger, Hannah McIntire, Katie Droste, Madie Benge and Shaylene Anderson. Back row: Zach Vancil and Tavian Davolt.
---