The Hancock-Henderson Quill, Inc.
---
Take "The Quill" Along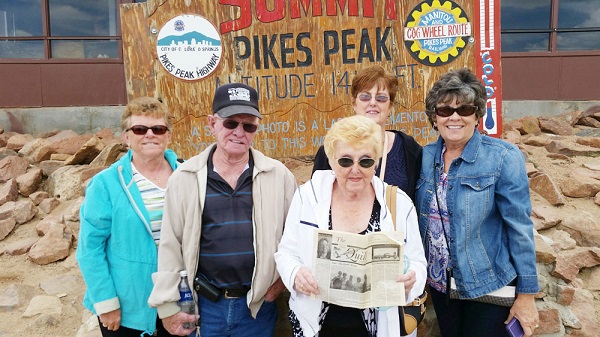 Dixie Bollin and Carolyn Trout had an enjoyable trip to Englewood,CO, visiting family and friends. All enjoyed a trip to the Rocky Mountains and Pikes Peak. Pikes Peak is the highest summit of the southern Front Range of the Rocky Mountains of North America. The ultra-prominent 14,115-foot fourteener is located in Pike National Forest, 12.0 miles west by south of downtown Colorado Springs, Colorado. The mountain is named in honor of American explorer Zebulon Pike who was unable to reach the summit. The summit is higher than any point in the United States east of its longitude.
Pictured with an old Quill that mentioned Fran and Rose's father Art Reed is (from L to R) Dixie Bollin, Jerry (Red) Hobby, Rose (Reed) Hobby,Fran (Reed) Keinburg and Carolyn Trout.
When you go on a trip, take "The Quill" along and have your picture taken with it, then send it to us. Let's see where all "The Quill" can travel.
---