The Hancock-Henderson Quill, Inc.
---
Take "The Quill" Along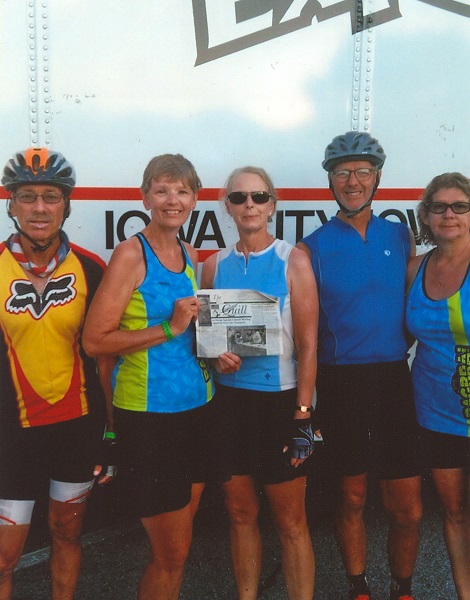 On July 20th The Quill left Oregon and Idaho for Iowa. Charles and Sandy Kralovec from Canby, Oregon, Jayne and Scott Forwood from Payette, Idaho and Julie Kralovec from Boise, Idaho completed another bike trip together.
This year they rode their bikes in the annual RAGBRAI ride across Iowa. On July 24th they left Glenwood and rode for 7 days to the finish line in Muscatine, IA.
Along the way they visited the birth place of Johnny Carson, The Dumont Museum, a house in Tabor, IA that was a part of the Underground Railroad, and a movie theatre in Washington, IA that is 116 years old.
They had a good time together and created some great memories. This picture was taken on day 5 of the ride. (Charles, Julie, and Jayne are former residents of La Harpe.)
When you go on a trip, take "The Quill" along and have your picture taken with it, then send it to us. Let's see where all "The Quill" can travel.
---