The Hancock-Henderson Quill, Inc.
---
Spotlight On Local Business
by Deb Olson, The Quill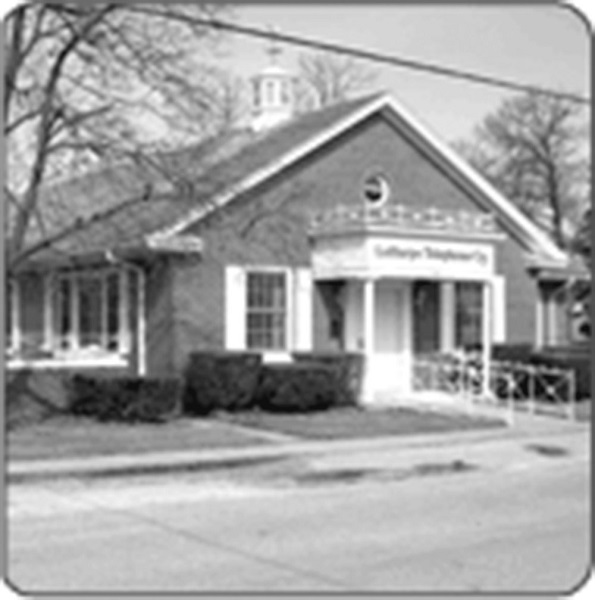 La Harpe Telephone Company, Inc.
104 N. Center St., La Harpe
In 1902 Charles K. Todd and John Hungate organized the La Harpe Telephone Company. The company published its first directory in 1903.
In 1906, Todd and Hungate sold the company to Orville F. Berry and James Hendricks, who conducted the business under the name Mississippi Valley Telephone. 1n 1908 Hungate and Todd repossessed the business.
Partners A. G. Cox and R. R. Lionberger were added in 1916, by 1918 Todd had bought out one partner so he now owned the business.
By the mid 1930sâ Cora Peasley became owner of the other half of the company. She and C. K. Todd were partners until his death on 193388.
At his father's death, Ralph took over his father share. He remained partners with Ms. Peasley until he bought her half from her estate.
La Harpe Telephone Company incorporated October 2, 1951. Ralph and Emma Todd were the original shareholders.
Many technological changes mark the growth of the La Harpe Telephone Co. In the beginning, people owned the phones and the lines which connected them toâ"Central", the switchboard.
The first telephone office was on the second floor of the building once called the Painter Apartments
There were usually one or two operators on duty at all times. These operators not only ran the switchboard but could also collect bills.
In the late 1950's La Harpe Telephone Co. acquired many farmer-owned lines which were considered to have upkeep nuisance. This was a part of the modernization of the company.
With the help of REA funding the company built a new office and plant at the current location.
In 1960 the exchange was upgraded to the Stromberg-Carlson XY step-by-step dial system.
In 1967 Ralph Todd purchased the Fountain Green exchange from Fred Hillers and converted it to the one-party service. La Harpe became one party in 1971 and began Extended Area Service to Blandinsville.
In April 1984 because of age and wear on the XY switch a Stromberg-Carlson digital central office was installed.
In an article for Illinois Telephone History, Diana Todd Irish noted that within four generations the company has gone
"From multi-party lines to equal access.
From local operators to direct dial'
From handwritten bills to credit cards and computerized bill,
From poles and aerial to buried plant,
From crank ringers to dial tone,
From, regulation to deregulation,
From voice messages to accessing data banks"
Today, La Harpe Telephone provides Internet service, fiber optic cables and video service.
Current officers are Todd Irish President, Mark Irish Vice President and Diana Irish, Member of the Board of Directors.
For information on Telephone Company services call 217-659-7721 or visit www.laharpetelephone.com.
---