The Hancock-Henderson Quill, Inc.
---
Take The Quill Along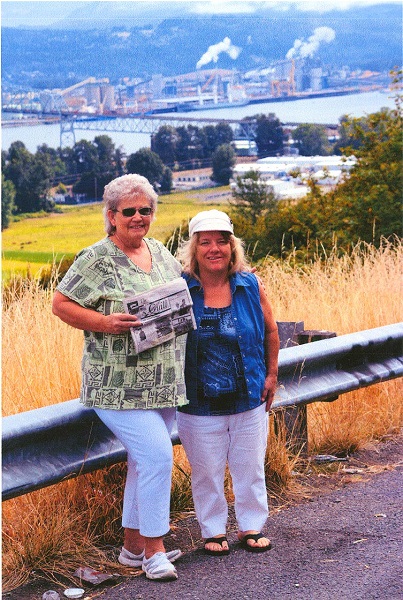 Lou Ann, Joe Pence, Joan and J. D. Shipman took "The Quill" along when they left August 8th for Idaho and Oregon to see family and scenery. They traveled through Illinois, Iowa, Nebraska, Wyoming, Utah, Idaho, Washington and Oregon-so many beautiful sights to see!
Just traveling they saw: Rocks of Vedauwoo in Wyoming; a hill with red residue from chemicals used to put fires out; the town of Astoria, Oregon where Kindergarten Cop and Goonies was filmed. They drove thru (very cold) clouds, saw Green dinosaurs, Sinclair gas.
In Idaho, brother Ed took them to Salmon Hatchery where each run has thirty two thousand, 1.5 to 3 inch long salmon. Saw Balanced Rock, Thousand Springs, Shoshone Falls, Perrine Bridge and Twin Falls. In Oregon, sister Cathy and brother Jerry took the group to Silver Falls and Seaside, OR-the Promenade Turnaround-designated end of the Lewis and Clark Trail.
They put their feet in the ocean there. (Cold!) Joan and Joe celebrated their birthdays on this trip, in Idaho for Joan's and in Wyoming for Joe's.
Pictured is Cathy Carle and Joan Shipman holding "The Quill". The background view is of the bridge in Longview, Washington and Mt. Rainier.
When you go on a trip, take "The Quill" along and have your picture taken with it, then send it to us. Let's see where all "The Quill" can travel.
---