The Hancock-Henderson Quill, Inc.
---
Spotlight On Banking
Banking In La Harpe
First State Bank of Illinois, 128 East Main St
by Deb Olson, The Quill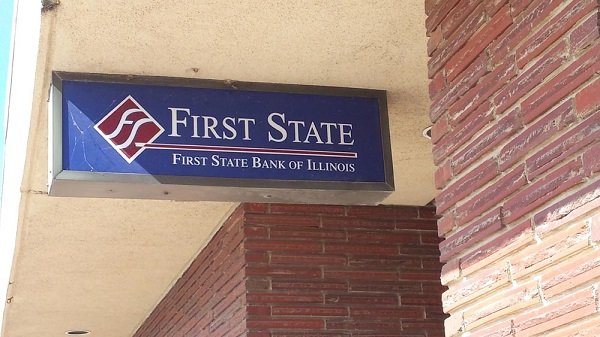 What would eventually become First State Bank of Illinois was established in January 1904 as the State Bank of Burnside, with a capital stock of $25,000.
The previous summer, on June 27, 1903 the auditor had given permission to Stephen D. Stoner, Edgar P. Hull, Robert C, Gibson and John H. Pettit to organize a bank or banking association at Burnside. It would be located in a newly built building of yellow Plumbville brick.
The following were the first directors of the State Bank of Burnside: S. D. Stoner, President, R. D. Gibson, Vice President, A. J. Harris, Secretary and F. A. Strickler, Treasurer. Other board members included J. H. Pettit, John Duffie, John P. Byler, and Samuel Smith.
In 1941, even though the bank was a solid institution in Burnside, which had prospered because of the loyal patronage of the community, the directors felt that there was greater opportunity for growth in a larger town.
In July of 1941, the bank's Vice-President George W. Singleton and E. F. Nortrup came to La Harpe, completing plans to move the bank to the Elmer Towler room next to the post office.
The interior and exterior of the bank were remodeled in 1954 and again in 1973. In 1981 a drive-up window facility was added.
In 1982 the F. M. Roderick building, immediately to the west of the bank was purchased. The building was torn down and a new addition was built onto the adjacent bank building. Extensive remodeling was done at that time. Several offices, a large bookkeeping room, a director's room, a lounge, and an office machine room were added.
Bank directors at this time were: Fred Gibb, Jr., Dr. B. I. Mueller, W. E. Sexton, R. G. Peterson, R. L. Helmers, C. W. Morrison and Richard Rasmussen. R. O. Stone served as board President, R. L. Helmers as Vice President, Alan Driskell, Assistant Vice President and Consumer Loan Officer and Jay Morris Ag Loan Officer.
Other employees included: Betty L. Wright Assistant Cashier, Norma I. Fox assistant cashier, Judith K. Mueller, Assistant Cashier, Kathleen Elston, Bookkeeper/Teller, Carol Stevens Bookkeeper/Teller, Donna Link Bookkeeper/Teller Jeanette Ford Teller/Secretary, Debora Johnson Book-keeper/Teller, Leila Link Book-keeper/Teller, Tamera Damiels and Janet Louden Student Trainees.
On April 17, 1989 the State Bank of La Harpe was renamed First State Bank of Western Illinois.
November 1, 2001 First State Bank of Western Illinois was renamed First State Bank of Illinois. In the fall of 2008 the bank expanded into the Peoria market and in 2014 into Quad Cities market.
Today the western Illinois region has nine banking centers Peoria, Pekin, Macomb, Monmouth, Carthage, La Harpe, Hamilton, Blandinsville, and Colusa.
The banks website lists the current officers at La Harpe/Blandinsville banking centers as Jeanette Ford VP/Banking Center Manager, Ben Powell VP/ Relationship Manager, Kasey Livingston Loan Officer, Jake Thomas - Loan Officer.
The Regional President of Western Illinois Region is Andrew Bastert
A picture from a picture in December 2015 includes Amy Palmer, Jamie Blankenship, Jodelle Hallowell, Jackie Terrill, Donna Purdy, Janeen Peterson, Amy Jackson and Lana Boyd.
Geographic service area today "covers a sizeable expanse in western and central Illinois, eastern and throughout the Midwest."
"Foundation of the bank was built on providing best in class banking products and services to agriculture based communities it serves."
Webpage:
www.FirstStateIL.com
Banking hours:
Mon-Thurs: 9 a.m. to 3 p.m., Friday: 9 a.m. to 5:30 p.m. Saturday: 9 a.m. to 12 p.m.
Drive-up window opens at 8 a.m.
---