The Hancock-Henderson Quill, Inc.
---
Spotlight On Business: The Railroad In La Harpe
by Deb Olson, The Quill-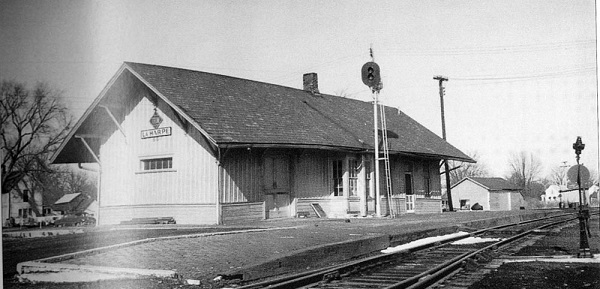 Nothing speaks to the changes in American life over the past 150 years more than the changes in railroads, from that time period to our own.
The story of La Harpe and the railroad is similar to that of many small towns in America that flourished with the railroad.
Several sources state that The Toledo, Peoria and Warsaw Railway came to the La Harpe area in 1860's. It had been chartered circa 1863 and was in operation from Effner, IN to Warsaw, IL by 1868.
In this time period railroads were the gold standard for moving people, goods, livestock, mail and other commodities. This meant both passenger and freight service came through La Harpe. Unlike other railroads who lost passenger service from the 1930's through the 1950 s the TP&W which provided service to La Harpe continued to offer passengers seats on the caboose up into the early 1970's.
In 1879 the Toledo, Peoria and Western (TP&W) was organized in order to acquire the Toledo, Peoria and Warsaw Railway s tracks. In March of 1887 the TP&W incorporated in Illinois and consolidated its operations with the logansport, Peoria and Burlington Railroad.
TP&W was an Independent Carrier for nearly 100 years before it was absorbed by the Santa Fe in 1983.
In May of 1980 the Keokuk Northern Real Estate Company (d/b/a Keokuk Junction Railway) purchased 4.5 miles of the Chicago, Rock Island and Pacific Railroad trackyard in Keokuk, IA. and the Keokuk Junction Railway acquired that trackage in 1981.
The Keokuk Junction Railway (KJRY) now owns parts of the old TP&W line too. In 1987 KJRY purchased trackage from La Harpe to Keokuk from Santa Fe. The tracks from La Harpe to Lomax were purchased in 2002 and the tracks from La Harpe east to Peoria were acquired in February 2005.
The Pioneer Railroad Services, Inc. currently operates a locomotive shop in La Harpe at 407 South 3rd Street, for KJRY, which is owned by Pioneer Railcorp, a railroad holding company that owns short line railroads. The company is dedicated to providing reliable and dependable rail services through its North American railroad subsidiaries.
According to the Pioneer Railcorp webpage, the Keokuk Junction Railway Company (KJRY) is a wholly-owned subsidiary of Pioneer Railcorp. It operates along 114 miles of track from Peoria, Illinois to Keokuk, Iowa, and 12 miles of track from La Harpe to Lomax, Illinois.
It was assigned trackage rights from Lomax, Illinois to Ft. Madison, Iowa, a distance of approximately 15.5 miles over the BNSF, allowing the KJRY to interchange traffic with the Union Pacific Railroad. The railroad s principal commodities are corn, corn germ, corn syrup, meal, gluten feed, and railroad wheels.
For more information about the Keokuk Junction Railway call 309-697-1400.
You can learn more about Pioneer Railcorp by visiting its website at www.pioneer-railcorp.com
---