The Hancock-Henderson Quill, Inc.
---
Mayor Kienast Threatens Council with Lawsuit
by Dessa Rodeffer, Quill Publisher/Owner
La Harpe- After another tense week of strained relationships between the citizens of La Harpe and their Mayor Ryan Kienast, water committee member Marcia Stiller, City Attorney Kurt Dittmer, and La Harpe City Council, the Council went into a lengthy closed session Monday evening and all six returned to give an unanimous vote for rehiring their long-time Water Superintendent Tim Graves.
The action happened after a restless and boisterous crowd of about 150 gathered early to await the beginning of the 3rd meeting for the month of March, which included a special meeting which was held Wednesday, March 23rd to address the prior Monday's announcement that Mayor Kienast had informed Graves that the La Harpe City Council's March 14th vote to reject his resignation and keep him on, was null and void due to technicalities, and he really didn't have his job back.
Almost immediately, residents were protesting with signs on the Village Hall grounds asking for the removal of Mayor Kienast on Monday and again on Tuesday of last week. In return, the Mayor called the area news media offering interviews with himself and Marcia Stiller.
Channel 7 from Quincy came to the special meeting Wednesday, March 23rd and it was televised at 10:00 pm that evening. Channel 6 Moline followed last night with the addition of coucilman Darrell Kraft and citizen Dave Clover.
The Burlington Hawk Eye and Hancock Journal Pilot came to Kienast's home for interviews which were published later with accusations by Mayor Kienast and Stiller about problems at the water department which they felt needed made public.
Meanwhile, it was found that a letter was written to all La Harpe City Council members dated March 15th by Lucie, Scalf & Bougher of Macomb on behalf of their client Ryan Kienast as a property owner and private resident in regards to the city water and sewer charges saying that: "The ordinance is unclear in numerous respects" and it "fails to address certain scenarios that exist in La Harpe."
Kienast's counsel Emily Sutton, went on to say, "the purpose of the Fourteenth Amendment is to secure every person within the State's jurisdiction against intentional and arbitrary discrimination, whether express terms of a statute or by its improper execution through duly constituted agents."
The attorney went on: "There does not have to be improper motivation for the difference in treatment; it is enough that water and sewer bills are calculated inconsistently."
It ends saying: "Mr. Kienast has an excellent basis for filing a lawsuit in Federal court based on the billing practices. We would obviously like to avoid such a drastic step, but it may become necessary if the situation is not resolved.
"I am writing to urge you to address the inconsistent billing practices in a timely manner.
"Please remedy the situation within the next billing cycle."
More details of Monday nights meeting will be in next week's edition of The Quill.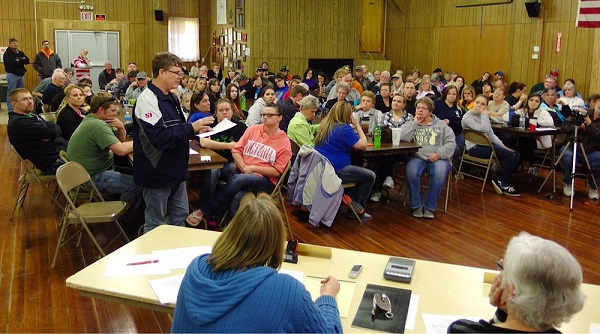 Timothy J Graves, 54, who was hired back again Monday evening, as La Harpe's Water Superintendent, addresses accusations that were made about water problems in a newspaper interview with La Harpe Mayor Ryan Kienast and Council member and Water chair Marcia Stiller.
After being rehired by council at the end of the lengthy meeting in an unanimous vote, Graves had this to say: "I enjoy my job. I like what I do and I was thinking at the last meeting they (the council) were getting back on the right track.
"Then I was disappointed in the error (at the last meeting where his rehiring was null and void)," Graves said. "But, now I am starting back where I left off. We need to get over this and get the town back to order."
Graves said that he preferred to have Dan Carpenter who was fired by the Mayor by his side.
"He was a very good operator." Graves said. "He is motivated and he liked his job. I can't understand waiting for his Class A License. Anyone can work under me."
Graves went on to say that Carpenter would always stay the extra hours and work overtime until the problem was solved.
"I've had previous help that didn't care about the city, but Carpenter cares about the city, and is a good worker."
As far as having immediate help, Graves said the street department employees will assist him with any breaks and will fill in on weekends, for now.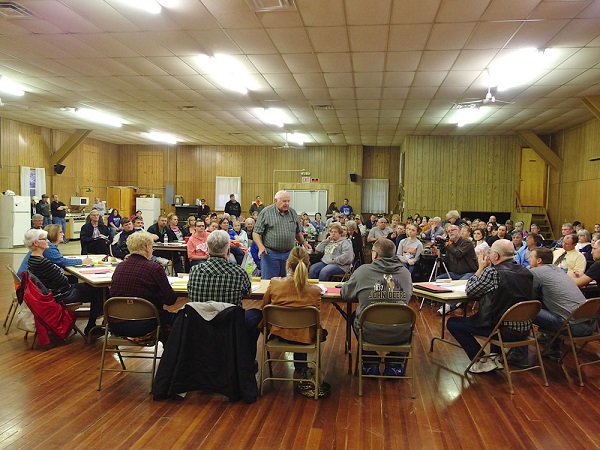 Bob Shutwell, a former school bus driver who has been considering moving from the country into La Harpe, told Mayor Kienast he doesn't know why this has to go on and on and on. "Why are we tearing our little town apart?" "We would have 2nd and 3rd grade kids that would be in a fuss and one would say, 'He started it!'', 'No he started!', 'No he started it! Shutwell said, "I don't care who started it. It's over! So, get it over with, so the town can move on:for Pete's sake!"
---