The Hancock-Henderson Quill, Inc.
---
The Doctor Is In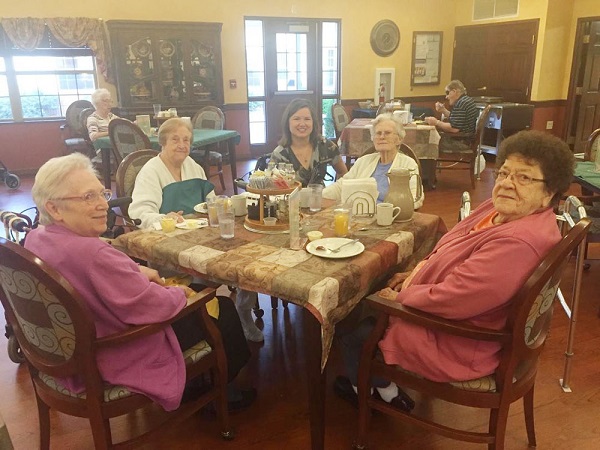 Dr. Jennifer Reed officially started seeing patients at Eagle View Community Health System on Monday, June 25.
On Monday morning, she visited Oak Lane Nursing and Rehab and Oak Wood Estates Retirement Village in Stronghurst. Dr. Reed used the opportunity to meet the patients that Eagle View has established at Oak Wood Estates and to meet the staff at Oak Lane.
Dr. Reed works in our Stronghurst and Oquawka clinics. She is in Oquawka on Mondays and Wednesdays, and Stronghurst on Tuesdays and Thursdays.
Dr. Reed graduated at the end of May from Indiana University, Indianapolis, Indiana completing her Internal Medicine Residency. Dr. Reed was awarded two awards at graduation. One of the awards she received was the Geriatric Excellence Award.
The second award was the Ebner Blatt Award. This award is given to a resident who exemplifies the professionalism that Dr. Blatt exhibited during his 40 year career at Methodist Hospital. The award is given for unselfish devotion to patients and compassionate concern for others!
Dr. Reed received her Doctor of Medicine from Southern Illinois University in Springfield in 2013. Dr. Reed is originally from Peoria. Her parents are Tom and Diane Carroll of Peoria. She is the oldest of five children.
She is married to Dr. Loren Reed, son of Randy and Mary Reed of Little York. Loren is an emergency room doctor at Great River Medical Center in West Burlington, IA.
The Reed family includes a Lab/Retriever mix, his name is Gabe. Gabe is enjoying his new home in rural Stronghurst. The Reeds enjoy spending time in the outdoors - rock climbing, four wheeling, kayaking, are just a few of their pleasures.
Dr. Reed has fond memories of spending time in Oquawka as a child. Her great uncle Bill Sullivan was principal of Union School and lived in Oquawka. In the summers, her family would come to Oquawka and spend time on the river.
Dr. Reed will be able to see patients sixteen years old and older. Doctors of internal medicine are able to treat the whole person, not just internal organs and can be considered primary care physicians. Eagle View will have nurse practitioners on staff to care for younger patients.
Dr. Reed joins Eagle View's Nurse Practitioners, Luanne Johnson, Michelle Hartman, and Laurel Welty.
Eagle View plans to have open houses at both clinics to welcome Dr. Reed to the community. On August 2, the Stronghurst Clinic will host an Open House for Dr. Reed from 2-4 p.m and on August 4 the Oquawka facility will have their Open House from 4- 6 p.m.
If you are interested in having Dr. Reed or other Eagle View staff come to an organization/community meeting, please contact the Executive Director, Lori Sutton at the Oquawka location to set-up speaking engagements.
Dr. Reed and the Nurse Practitioners are accepting new patients. Eagle View accepts Medicare, Illinois Medicaid, Iowa Medicaid (Title 19), private pay and most insurance providers.
For more information, go to www.eagleviewhealth.org or call to make an appointment. Contact the Stronghurst Clinic at 309.924.1381; or, to reach the Oquawka Clinic call 309.867.2202.
---