The Hancock-Henderson Quill, Inc.
---
Architectural Details On La Harpe Buildings "Look Up La Harpe" Towers and Turrets
Architectural Details On La Harpe Buildings "Look Up La Harpe" Towers and Turrets
Towers and turrets are another example of architectural detail in La Harpe's buildings.
Both can be defined in general as tall, usually square or circular structures that may sometimes be a part of a larger building.
A turret is considered to be a small tower extending above a building. There are three easily recognizable towers in La Harpe.
The first is the City Hall building at 207 E Main Street. It was built in 1884.
The tower rises over the arched entry way past windows featuring crown molding which is echoed in the cornice.
The building was added to the National Register of Historic Places on November 14, 1991.
The second is the tower at the Union Church at 107 N Center. It consists of an arched entry way with arched windows.
The brown paint on the door and window trim contrasts nicely with the beige walls. The dark crenellations at the top of the tower give it the look of a fortress.
The house on South A Street belonging to Mike and Hillary Bennett features a flared roof. It also has a decorative cornice.
The windows of the tower are alternately topped by colored glass squares.
This provides a further decorative touch of style to this beautiful home.
If you know of other towers in La Harpe, notify the Quill at P.O. Box 465 or call 217-659-3316.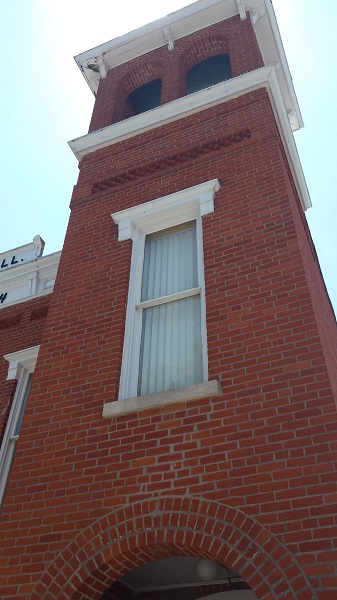 City Hall Tower
This is La Harpe "City Hall" Tower showing it extending from the rest of the front building structure and from a straight shot, looking up the tower.
-photos by Deb Olson, The Quill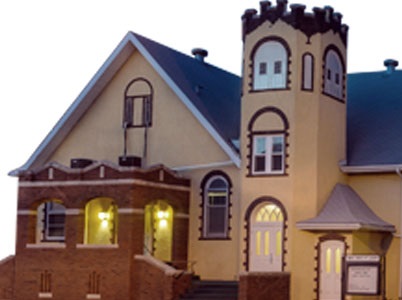 The La Harpe Union Church Tower at 102 N. Center Street, La Harpe, is another beautiful landmark of the City of La Harpe.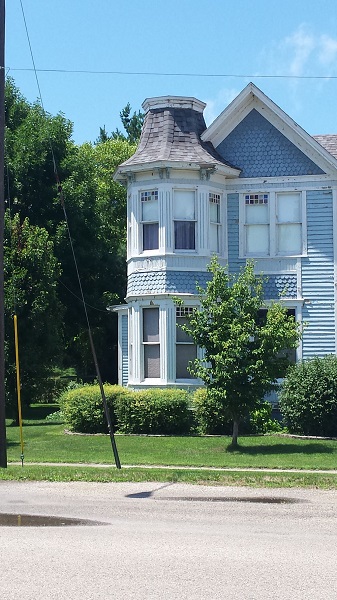 The Tower on this home is another beautiful architectural detail that stands out in La Harpe. It is owned by Mike and Hillary Bennett located at South A Street. -by Deb Olson/The Quill
---