The Hancock-Henderson Quill, Inc.
---
Take "The Quill" Along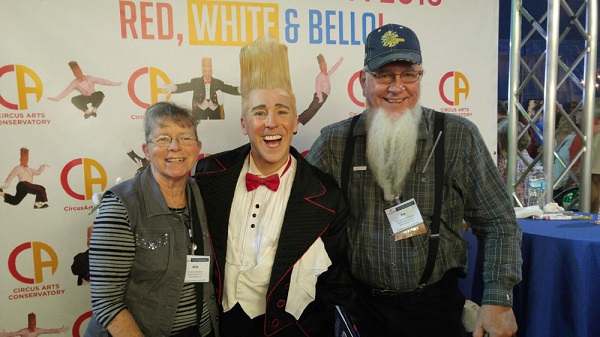 In some downtime, Alice and Ray Defenbaugh of Biggsville attended the Circus Arts Conservatory with "Red, White, and Bello" (Bello Nock) and took along "The Quil" to Sarasota, Florida. Bello was the comedian at the circus and he also performed on the trapeze.... "he must have nerves of steel," Alice said.
The Defenbaughs joined nearly 230 U.S. Grains Council (USGC) delegates and members representing 87 organizations from 25 states for the Council's 13th International Marketing Conference And 56th Annual Membership Meeting held last week. The sessions followed this year's theme of "Excellence in Exports" while focusing on new developments and challenges emerging in the global grain trade. A significant amount of time was spent in meetings of the USGC Advisory Teams which discussed global strategies and compared notes about market conditions and priorities from their perspectives on the industry. Members provided input into the Council's planning process to enhance its strategic cohesiveness.
Big River Resources, LLC West Burlington, IA is a member of USGC where Defenbaugh is CEO and was one of the speakers at the conference. The following week, the Defenbaughs attended the Growth Energy meeting at Daytona, Florida where Defenbaugh is on the board. They enjoyed attending the Daytona 500 Nascar races, visiting with Richard Childress, Austin Dillon, Chris Soules, and others who attended the meetings and races.
When you go on a trip, take "The Quill" along and have your picture taken with it and send it to us. Let's see where all "The Quill" can travel.
Let's see where all "The Quill" can travel.
---