The Hancock-Henderson Quill, Inc.
---
Bank of Stronghurst Looks to the Future With New and Familiar Faces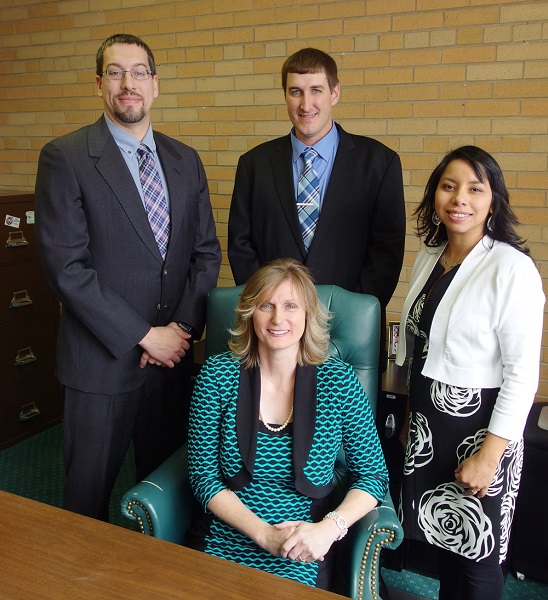 The Board of Directors at the Bank of Stronghurst would like to announce new and exciting changes.
Charlie Ford has been hired to assume the Farm Loan Officer position. Charlie grew up in Henderson County and has farmed all his life. He has an Associate of Applied Science Degree in Agriculture Production from Southeastern Community College and a Bachelor of Science Degree in Agriculture Business from Western Illinois University. He most recently worked at DuPont Pioneer near Good Hope, IL. We are excited to have Charlie and know that our farm customers will really enjoy working with him.
Sandra Ford started working at the Bank in May of 2015 as an administrative assistant. She has recently been promoted to Assistant Vice President.
Sandra has a Bachelor of Science in Agricultural Sciences and Natural Resources Management. Sandra handles electronic services at the Bank, accounts payable, and will be handling human resources as well. Sandra is married to Charlie Ford and resides in Stronghurst with their two sons.
Josh DeSotel was promoted to Executive Vice President in December of 2015 and has most recently been promoted to Cashier.
Josh joined the Bank in 2004 when the Dallas Banking Center was preparing to open and he resides in Dallas City with his wife and two sons. Josh earned a Bachelor of Business Degree in Finance from Western Illinois University.
Josh has experience in all areas of banking and plans on attending Graduate School of Banking in Wisconsin.
Josh has also been appointed to serve as Secretary of the Board of Directors.
Stacie Newberry was promoted to CEO in December of 2015 and has most recently been promoted to President & CEO.
Stacie was also appointed to serve on the Board of Directors.
Stacie has been with the Bank full-time since 1988.
She graduated from Robert Morris College with an Accounting Diploma.
Stacie completed Bank Operations School in 1995, completed the Western Illinois Leadership program and most recently completed a two year program - The Community Bankers School in Bloomington, Illinois.
Stacie will be attending Graduate School of Banking in Colorado over the next two years as well.
Stacie resides outside of Carman with her husband and family. She was groomed under the leadership of Howard Grigsby, James Melvin and Charles Vaughn. She also strongly supports community banking and plans to continue to operate the Bank of Strong-hurst under that philosophy.
The Board of Directors encourages you to stop in and visit with all their staff.
The Bank of Stronghurst was established in 1946.
During April of 2016, the Bank will be entering its 70th year of serving the Stronghurst area and its surrounding communities.
Stacie said, The Directors, Officers and Employees look forward to serving the community for many years to come.
---