The Hancock-Henderson Quill, Inc.
---
Illini West Captures Girls 2A Regional BB Championship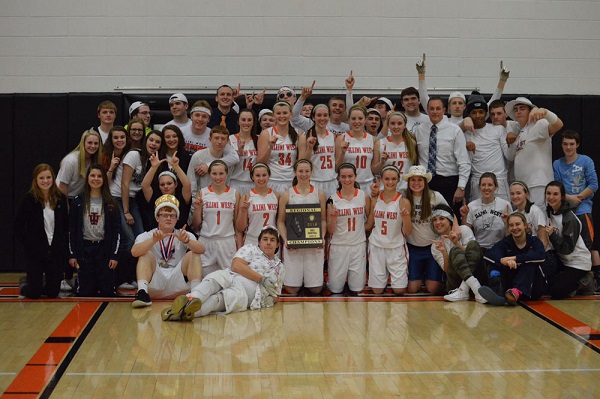 Chargers Win Regional 59-41;
The Illini West Lady Chargers (Carthage) in Regional Championship play Thursday night at Glasford, knocked off Midwest Central (Manito) by a final score of 59-41.
Leading scorers were Mackenzie Patrick with 18, Baylee Clampitt-14, Brianna Grotts-10. (Illini West Erin Johnson advanced in the three-point showdown with 8 buckets.
End Season at Sectional Semifinal
The Chargers bombed in seven 3 pointers but sank only three 2-pointers in the Illinois Class 2A sectional setback in Manito when they faced Knoxville. Illini West took the lead (30-29) late in the third quarter and held that lead until less than about 40 seconds to go. Then Knoxville canned a 3 pointer and got a basket just as the clock ran out.
Erin Johnson led the way with three treys for nine points.
Knoxville played only seven and had just three scorers.
Illini West
Erin Johnson 3 0-0 9
Sierra Hall 1 1-1 3
Mackenzie Patrick 1 0-0 3
Connor Smith 2 2-2 7
Baylee Clampitt 3 0-0 8
Knoxville
Bailee Case 3 0-0 7
Megan Axcell 5 2-2 13
Lauren Kavanaugh 7 0-0 14
Score by quarters:
Illini West 2-9-12-7 - 30
Knoxville 6-9-6-13 - 34
3 point goals:
Johnson 3, Clampitt 2, Patrick, Smith, Case, M. Axcell
---