The Hancock-Henderson Quill, Inc.
---
Jay Blender Honored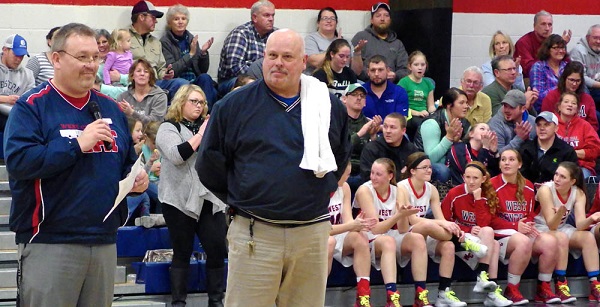 February 1st, 2016, West Central coach and teacher Jay Blender of Raritan, was honored Monday evening as he coached the varsity girls at their last regular season home game. Blender is retiring from coaching.
West Central High School Principal Scott Schneider read a statement prepared by a senior parent's mother and Mr. Schneider, honoring retiring coach Jay Blender
Blender was honored on Monday evening at half time of the Varsity girls last home game against Annawan.
Schneider said, "Earlier tonight we honored our seniors and now we would like to honor someone else who means a great deal to West Central Heat girls basketball, Coach Jay Blender.
"He has been a model of consistency in the basketball programs of our district.
"Coach Blender started his coaching career in Galva in 1981-82 where he coached football and wrestling. He then moved to Union coaching JV boys basketball, eventually coaching girls at the varsity level.
"His career then led him to Southern where he coached the boys for several years as well as his daughter's junior high team.
"With the formation of the West Central school district from the Southern and Union school districts, Coach Blender found himself back in a familiar building.
Coach Blender has been back with the girls' basketball program since the 2008-09 season. He has also had the experience of coaching a parent in the 1980's and coaching their child years later. When you add it all up, Coach Blender is in his 35th year of coaching including basketball, football, and wrestling.
This sort of commitment and consistency as well as his love for the game and his love for his student-athletes is what makes him a special coach.
I am sure that former players and players today can tell you that Coach Blender lives and breathes basketball.
He is constantly running through plays in his mind and writing new plays down.
I think a few lessons that stand out with Coach Blender or some "Blenderisms" if you will are:
"You have to rebound"
"Don't ever trail"
Never tell an official "I have forgotten more about basketball than you have ever learned"
When you are in the game and you hear from the bench "Get her outta there" you realize he is talking about you, you better hustle off the court and sit right next to him on the bench where he will then usually tell you that you are doing a good job, but this is how you can do it better
One of the most common "Don't screen air"
"Don't stop believing"
And most importantly "Let's go out and have some fun"
Mr. Schneider invited anyone that had ever had Coach Blender as a coach or teacher to stand up, and then he said:
As we stand here tonight Coach Blender has 398 wins in his basketball career.
"We wanted to take a few minutes to say thank you to Coach Blender and all he has done for our district and our sports programs.
Thank you for the memories, you will be missed!"
---