The Hancock-Henderson Quill, Inc.
---
County Has New States Attorney
by Dessa Rodeffer, Quill owner
Henderson County Circuit Court Judge David L. Vancil, Jr. swore in a new Henderson County States Attorney Thursday, December 22, to replace Scott McClintock of Monmouth.
McClintock resigned to enter private practice in Monmouth with Clark and Glasgow, Attorneys at Law.
The Henderson County Board, approved for the vacancy, Colby G. Hathaway, whose hometown is nearby Galva.
Hathaway was doing business in civil litigation at the most diversified law firm in Champaign County-Meyer Capel, in Champaign, but said about the position, "This gives be a chance to serve in public service, something I've always wanted to do, so I jumped at the chance."
Colby also is pleased that it is nearby Galva where he grew up, "It's nice to be back in a small town," he said.
Oquawka and Henderson County is much like home. He also loves to fish and is anxious to have some time to try the sport on the Mississippi River.
Attorney Hathaway enjoyed high school sports at Galva and played basketball, baseball, and golf. Football in Junior High ended when he tore his MCL.
Hathaway was admitted into the Illinois State Bar in November 2012.
He was an intern for the Republican National Committee where he compiled absentee ballot and early vote data for implementation in local and national campaign strategy.
He also worked in the Executive Office of the President, Office of Political Affairs as an Intern at The White House. He vetted candidates for political appointments and briefed administration officials.
His experiences with attorneys include:
Harold W. Conick & Associates, Ltd in Wheaton where he assisted an attorney in Social Security Disability Law and drafted briefs for administrative and federal court appeals.
Law Offices of Shriver, O'Neill & Thompson, Rockford
Law ElderLaw, LLP in Aurora
Barash & Everett, LLC where he represented clients over a broad range including civil litigation, felony, misdemeanor criminal defense, and appeals.
Hathaway received his Bachelor of Arts in Political Science at the University of Illinois and was a FarmHouse Fraternity member.
He graduated from Northern Illinois University College of Law, Juris Doctor, magna cum laude ranking 10th in his class.
He was involved in NIU Law Review, 2012 Board of Editors, Symposium Editor, Delta Theta Phi Law Fraternity member, Moot Court and Moot Court competition semi-finalist and finalist.
The Hathaway family is seeking housing in Henderson County. He said, "It is an honor to serve and I am now looking forward to being a part of Henderson County."
Judge Vancil said that 20 years ago, he was sworn in as Henderson County States Attorney and he is now starting his 14th year as a judge.
Hathaway's secretary remains Angie Peterson who has worked at the courthouse since 1985 and is now assisting her 7th States Attorney. They were Steve Reed, John Prior, La Marr Evans, David Vancil, Jr., Raymond Cavanaugh, Scott McClintock and now Colby Hathaway.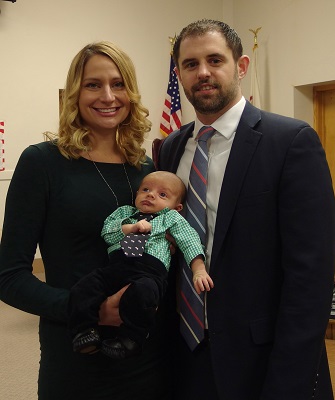 The ceremony took place at the Henderson County Courthouse, in Oquawka with Colby's parents, and his wife Caitlin and 6 weeks old son Collin present. Other county officials, board members and guests were also present.
---