The Hancock-Henderson Quill, Inc.
---
Business Spotlight: The Hancock County Quill
By Deb Olson, The Quill
"The Quill"-103 E. Main Street, La Harpe, IL 61450
In 1892 Mr. McDonald started the La Harpe Quill. He only published a few issues and sold the paper to Dr. I. M. Martin and Charles Comstock. They published the paper for several years and then sold out to Fred A. Wilenson and James E. Morford.
In 1904, Wilkinson and Morford leased the paper to Harry Bradshaw and Boyd Campbell. They were partners for one year. After Morford's death in 1905, Bradshaw formed a partnership with Wilkinson. After Wilkinson's death, Bradshaw bought the remaining interest in "The Quill".
He partnered in running the paper with his sons H. Byers Bradshaw and William E. Bradshaw.
On June 25, 1950 Harry W. Bradshaw passed away. At that time his son H. Byers Bradshaw became the publisher of the paper. He was assisted by his wife Eileen and their son Dan Bradshaw who then came into the firm full time.
On June 1, 1972 Paul G. Bell, owner of C. M. Bell and Son of Stronghurst and publisher of the Henderson County Journal and of the Henderson County Graphic-Reporter purchased "The Quill." His son Charles G. Bell, owner of Charles G. Bell Printing of Stronghurst and the Journal Printing Company of Carthage joined him as a partner.
The Bell family continued to publish the La Harpe paper under the name "The Quill" until Paul Bell's death in May of 1973 when Paul's widow Belva became co-publisher with her son Charles.
At that time the name of the paper was changed to The Hancock County Quill and was under the newly incorporated name of Hancock-Henderson Quill, Inc.. The corporation included two sister newspapers, The Stronghurst Graphic, Stronghurst, and Henderson County Journal, Oquawka which were combined under its new name, The Henderson County Quill to become the only paper in Henderson County.
Later, Charles sold his share of the partnership to his mother Belva Bell and his sister Dessa (Bell) Rodeffer, Editor who became President of the Corporation. Belva Bell retired at age 85 due to health issues and died December 13, 2005. Dessa Rodeffer became and is sole owner and publisher of the corporation today.
The Bells operated the first newspaper in the area to move from hot metal type to off-set printing. The La Harpe office is a gathering office for Hancock County news and ads.
The Quill is published by the Hancock-Henderson Quill, Inc. with main office in Stronghurst. Shirley Linder has been the Editor of both newspapers since November 11, 2001. Deb Olson currently is office manager at the La Harpe office.
To Contact "The Quill": Phone: (217)659.3316-La Harpe; (309)924.1871 Stronghurst. E-mail: quillnewspaper@frontier.com. Website: www.quillnewspaper.com. Facebook: Hancock-Henderson Quill, Inc. or thequillnewspaper.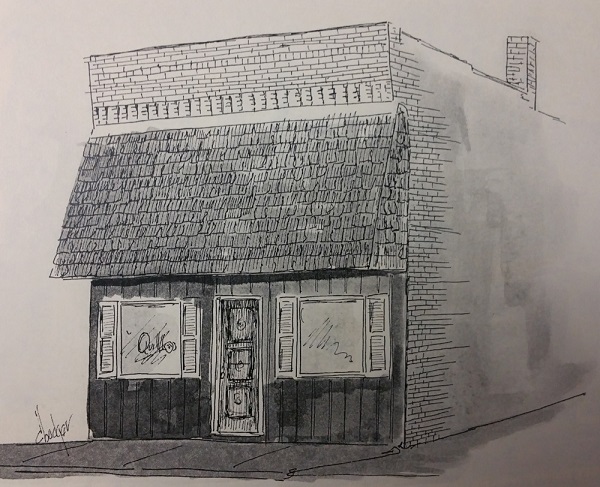 ---