The Hancock-Henderson Quill, Inc.
---
Take "The Quill" Along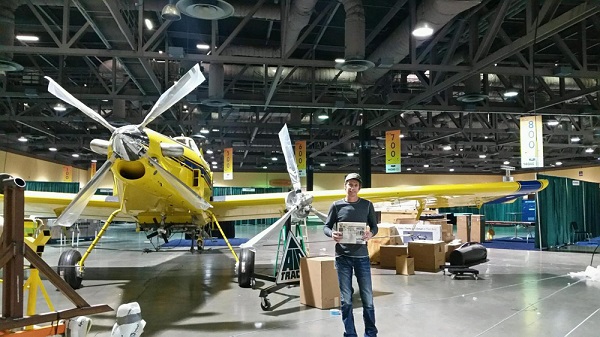 Matthew Defenbaugh, of rural Biggsville, a farmer, pilot and cropduster, took "The Quill" along to Long Beach, California where he attended the 50th Anniversary of the NAAA Convention & Exposition-the voice of the Aerial Application Industry. He is taking a sneek peak at the "Air Tractor 502xp". Its Xtra Power-867 horsepower-hauls a full load on the hottest days, all day without refueling. Its 167 cruise speed, capacity, and productivity can finish more acres in less time, with less effort. Matt said the wings were removed before it was transported on the highway and into the exposition hall where it was reassembled. The plane is around $1.5 million and has become a popular plane in many locations for timely field applications. While in California, Matt visited other sites including The Queen Mary, once an ocean liner and now a hotel, permanently docked in Long Beach Harbor.
When you go on a trip, take "The Quill" along, and have your picture taken with it, and send it to us. Let's see where all "The Quill" can travel.
---